History
Dr. Adriel Obar Meimban states in his book, La Union, The Making of a Province, that three friar chroniclers namely Julian Martin, Salvador Fron, and Elviro Perez differ in opinion with regards to San Juan's date of foundation. Martin claimed San Juan was founded in 1806, Font recorded 1803 while Perez claimed it was established in 1585.
Whichever is the exact date of its founding, it is a fact that San Juan was already a town when La Union was created as a province in 1850 and was one of its 12 original municipalities.
The town of San Juan, formerly called Baratao or Baltao, was formally accepted as a Ministerio de Baratao. It was composed of a federation of settlements of towns, namely the settlements of Bauang, Mapatnag, Allangigan and Dayawan as well as the settlements of San Miguel de Bacnotan, San Juan Bautista de Baltao, San Guillermo de Dalangdang, San Vicente de Balanac and a settlement named Bona or Boa. The center of the Ministerio was at San Juan Bautista de Baltao, now San Juan.
In 1587, Baratao became the center of an encomienda that belonged to Captain Bernardo Sandi. At that time, Father Agustin Niño arrived and transferred the Ministerio to Bauang. The transfer of the Ministerio from San Juan Bautista de Baratao to Bauang made San Juan an alternative visita (a settlement without a parish priest) of Bauang and Bacnotan. It was only in 1807 that a permanent parish priest was assigned to San Juan.
During the revolution of 1896, the whole town was razed to the ground. After the Spanish-American War, a Filipino priest took over the spiritual needs of the parish. Reverend Mariano Gaerlan, a native of San Juan, was the first Filipino priest to be assigned in this town. He supervised the reconstruction of the church that was burned during the revolution. His successor, Reverend Eustaquio Ocampo, continued the construction of the church until it was finished. At that time, San Juan ceased to be a parish. The parish priest assigned in San Fernando took over the spiritual needs of the people. Later in 1918, San Juan became a parish again.
Jose delos Angeles was the first Captain Municipal of San Juan in 1782. During the Second World War, the entire town of San Juan was devastated and the economy of the town was disrupted. After the War, however, San Juan underwent rehabilitation.
At present, San Juan has a total area of 5,186 hectares and also holds a four-kilometer shoreline facing the China Sea. It is famous for its surfing area along the beaches of Urbiztondo with waves suitable for beginner and intermediate surfers. Because of this, the town has been a venue for local and international surfing competitions. Consequently, San Juan has become a major tourist attraction in the Province and greatly contributes to La Union's tourism.
Aside from the surfing industry, San Juan is also famous for its pottery making industry where clay products made from the indigenous dalikan (clay hearth) are produced.
Agriculture remains to be the main source of livelihood of the people of San Juan. 1,765 hectares are planted with rice, 722 hectares with tobacco and corn and the rest of its agricultural area are planted with vegetables and root crops.
Profile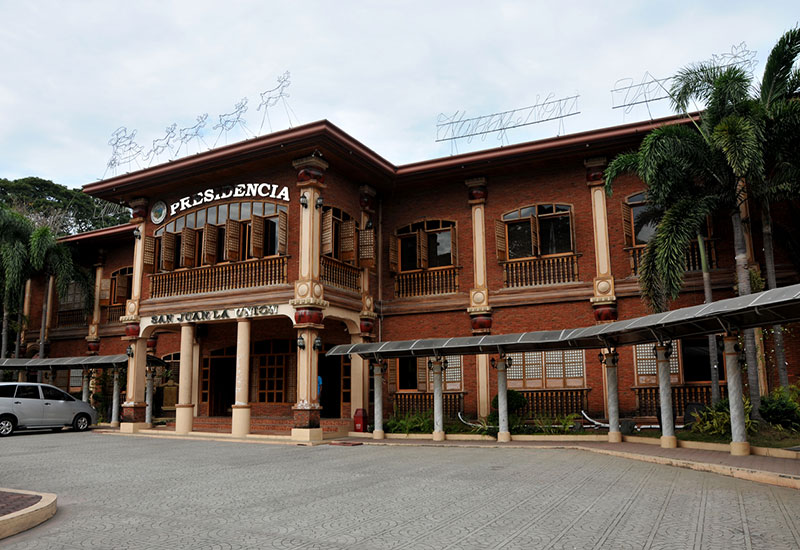 San Juan, with its rolling waves and delightful beach scenes, has become a household name in the surfing and tourism industry. A haven for local and foreign surfers alike, surf lessons are readily available wherein first-timers can be taught the basics in just an hour. The coastline of Urbiztondo Beach is often to be found alive with activities such as skimboarding, Frisbee, and beach volleyball. The La Union Surfing Break, scheduled every end of October, has continually attracted tourists, surfers, college students, beach-lovers, and party-goers, contributing to the rising popularity of this holiday destination.
On the other hand, San Juan is also a laid-back town known for its pottery industry. Earthenware of various sizes and designs, all of superb quality, are sold at Brangay Taboc. At the town center are San Juan's Municipal Hall, town plaza, and St. John the Baptist Church. Nearby on the seaside is the municipality's historic Baluarte (watchtower ruins) and farther inland is the untouched Candaroma Hidden Spring.
In honor of its St. John the Baptist, San Juan holds its patronal fiesta every 24th of June, and celebrates its annual town fiesta every third week of December.
Quick Facts
Land Area: 5,186 hectares
Population: 38,292
Number of Barangays: 41
Classification: Second Class Municipality
Average Annual Income: Php 59,612,510.00

Politically Subdivided into 41 Barangays
| | | | | |
| --- | --- | --- | --- | --- |
| Allangigan | Aludaid | Bacsayan | Balballosa | Bambanay |
| Bugbugcao | Caarusipan | Cabaroan | Cabugnayan | Cacapian |
| Caculangan | Calincamasan | Casilagan | Catdongan | Dangdangla |
| Dasay | Dinanum | Duplas | Guinguinabang | Ili Norte |
| Ili Sur | Legleg | Lubing | Nadsaag | Nagsabaran |
| Naguirangan | Naguituban | Nagyubuyuban | Oaquing | Pacpacac |
| Pagdildilan | Panicsican | Quidem | San Felipe | Santa Rosa |
| Santo Rosario | Saracat | Sinapangan | Taboc | Talogtog |
| Urbiztondo | | | | |