Hon. Mario Eduardo C. Ortega
Provincial Vice Governor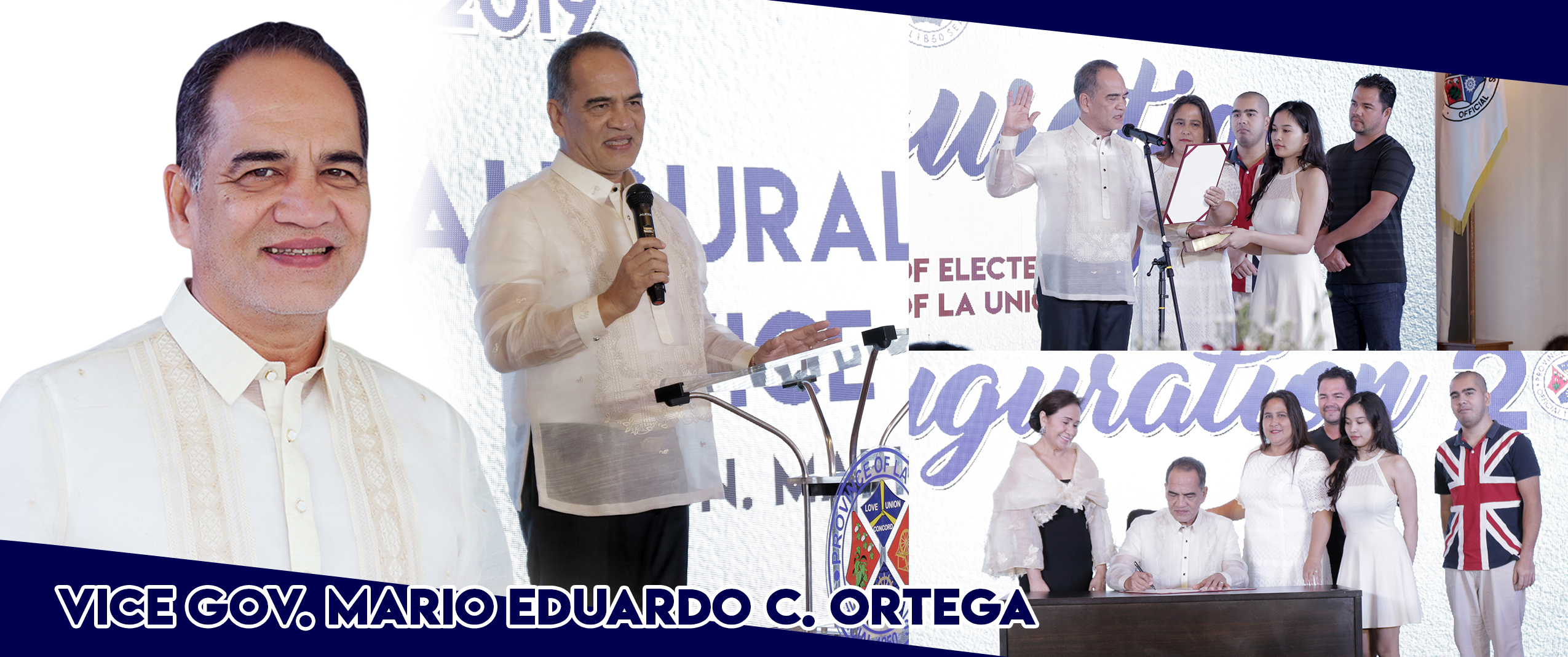 Advocacies
1. Lead an empowered Sangguniang Panlalawigan as co-equal and effective partner of the Executive Branch for better, relevant, innovative local governance that is honest and fair and honors the essence of democracy and genuine public service under the principles of continued collaboration, synergy, mutual trust, respect and professionalism;
2. steer a Sangguniang Panlalawigan that will be committed, dedicated and sincerely work together despite personal ideological and political differences and deliver results not only in terms of quantity of outputs but of quality, relevance and impact to the concerned sectors of the society;
3. Lead a dynamic Sangguniang Panlalawigan that will discuss and consult and enact legislative measures or policies or legislative issues based on social research, legalities and ethical and moral considerations rather than personalities, that promotes the equitable good of all sectors of the society over the benefit of a few, that supports people empowerment and holistic community development over allegiance to family, friends and party and that represents that true Iloko La Union culture.
4. introduce and implement diplomatic, collaborative, strategic and amicable solutions and/ or fair compromises in the Sangguniang Panlalawigan that will judiciously expedite legislative procedures;
5. Lead a Sangguniang Panlalawigan that will provide a check and balance legislative mechanism to the Executive branch especially in judicious and effective use of government machinery and resources that will further the province of La Union's sustained economic stability, peace and progress;
6. Lead a collegial body that will not just adhere to excellence but will level-up policy-making and best legislative practices to become benchmarks in the performance of the duties and responsibilities of the Sangguniang Panlalawigan;
7. Ensure effective and functional Executive-Legislative oversight committees that will ensure the enactment and implementation of policies as well as revision, updating or amendment of the same to be consistent to the changing times; and
8. Empower by extending administrative, capacity building and/or enhancement and technical support to the Sangguniang Panlalawigan Standing Committees in the exercise of their legislative functions particularly in the introduction and enactment of legislative measures that are notable, relevant and directly aligned or in support to the vision of the province, to position La Union as the Heart of Agri-Tourism in Northern Luzon by 2025 but likewise ensure observance, respect and obedience from our constituents as well as lower Local Government Units(LGUs).