History
Pugo was organized as a town on January 1, 1912 from the sub-province of Benguet, Mountain Province in accordance with Executive Order No.77 dated December 11, 1911, approved by Governor General S. Cameron Forbes. It is originally consisted of the territories comprising of eight barrios (Pugo, Ambangonan, Dagupan, Maoasoas, Enmistampa, San Luis, Cuenca and Saytan) with barrio Pugo as the seat of government. In 1919, Pugo became a municipal district in the sub-province of Benguet. On July 30, 1947, Pugo, together with Sudipen and San Gabriel, became regular municipalities of the Province of La Union, in accordance with Executive Order No. 72 issued by President Manuel A. Roxas.
About fifty years before the end of the Spanish regime, the eight original barrios were then settled, cleared up, and improved by emigrants mostly from the eastern part of Ilocos Sur. Pugo used to be part of Tubao while the southern barrios were then part of Rosario. Barangay Cares, Poblacion East, Poblacion West and Tavora East were then a wilderness called Rancheria Tulosa. It was the hunting ground for hunters and bird trappers from the town of Agoo. According to folktales, a high-ranking Spanish official visited the place and saw swarms of quails. He asked his guide the name of the birds and the guide replied, POGO (Iloko word for quail). Since then, Rancheria Tulosa was named POGO and subsequently PUGO.
In the year 1999, barrio Pugo together with the seven original barrios were annexed to Mountain Province as per Executive Order No. 11. When Baguio became a city in the year 1910, barrio Pugo and the other barrios became part of the township of Twin Peaks, Benguet. Twin Peaks was later abolished as a township, instead barrio Pugo and barrio Tuba were created as a township in the sub-province of Benguet. On February 4, 1920, Pugo which was then a municipal district of Benguet, was restored to La Union together with other barrios and sitios previously annexed to Mountain Province. This is in accordance with Section 2 of Act No. 2877 series 1920, enacted by the Philippine Senate and House of Representatives.
Profile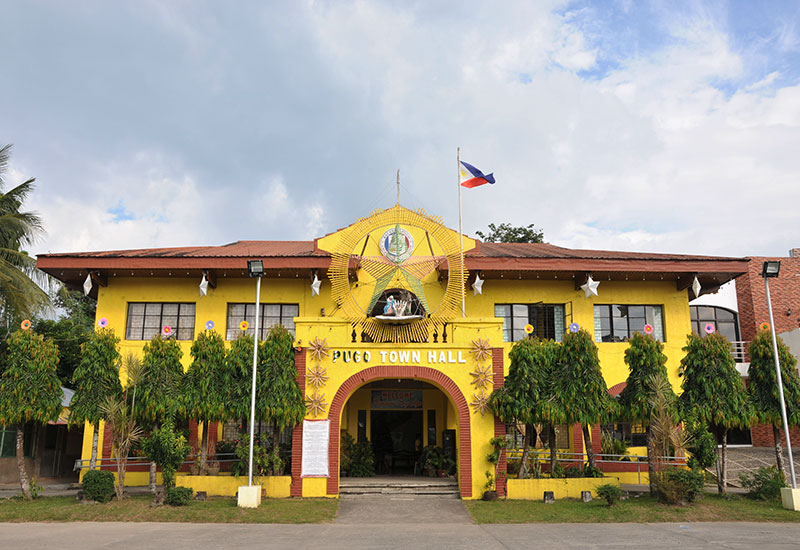 With such attractions as Pugo Adventure (Pugad) and Kultura Splashwave, the Municipality of Pugo labels itself as the "Eco-adventure Destination of La Union". Conveniently located along Marcos Highway, transportation is easily available in the locality with numerous buses coming from Baguio en route to Manila, Pangasinan and La Union, and vice-versa.
Pugo Adventure, opened In September 2010, has brought herds of thrill seekers to try out its three ziplines, the longest and highest in Northern Philippines. The highest zipline measures 250 ft. and gives a breathtaking panoramic view of Pugo's picturesque surroundings. Other facilities include two pools, picnic grounds, an ATV track and a tower for rappelling and wall climbing.
Kultura Splashwave, recently completed In November 2010, has similarly drawn tourists by the thousands because of its wavepool. This tastefully designed wonderland features several pools, waterslides, cabanas, snack houses, function halls and a hotel.
Quieter and yet just as appealing with its pristine waters is the exquisite Tapuakan River. Another place to go to for a retreat to nature is Dacanay Reforestation Park with its gigantic trees and stunning views. The budding municipality of Pugo has recently become one of La Union's more prominent towns. It celebrates its Centennial Foundation Anniversary every January 17-23 and Parochial Fiesta every last Sunday of December.
Quick Facts
Land Area: 8,711.75 hectares
Population: 19,898
Number of Barangays: 14
Classification: Fifth Class Municipality
Average Annual Income: Php 50,435,197.45
Politically Subdivided into 14 Barangays
Ambalite
Ambangonan
Cares
Cuenca
Duplas
Maoasoas Norte
Maoasoas Sur
Palina
Poblacion East
Poblacion West
San Luis
Saytan
Tavora East
Tavora Proper