History
Bagulin is located on the eastern part of La Union bordering Kapangan, Benguet. It is famous for its broom-making industry because of the abundance of tiger grass. Once part of Mountain Province, Bagulin was created as a regular municipality of Mountain Province by then Governor Pack in 1903.
Its name "Bagulin" was a coined word from "Bago" and "Ulin". It is said that during the early days, an Igorot named Bago wanted to find out what was the bluish crystal part of the earth that he saw from the uplands. One day, he set out towards the west and upon reaching the shore, he saw a beautiful lass drowning in the waves. Used to swimming in the brooks and rivers, Bago immediately went to rescue the girl. That was the first acquaintance of Bago, the young and daring highlander and Ulin, the lowlander lass. They fell in love with each other and air castles found their way in these young hearts. Plans for their wedding had been the subject of their whispers. Unfortunately, Bago was not welcomed by Ulin's parents. However, love knew no bound. The two eloped and they settled in the place now called Bagulin. They were gifted with a son whom they called Bagulin, coined after their names.
Bagulin grew to become the first and best chieftain that ever ruled the community so that when Governor Pack converted this place into a regular municipality, he named if after him.
In 1903, the American Regime established a parliamentary government and institutional facilities. Education was introduced and a community hall made with bamboo and cogon grass was erected. Bagulin was then under the jurisdiction of Mountain Province, sub-province of Benguet with La Trinidad as its capital. By 1918, under the agreement of Governor Guzman of Mt. Province and Governor Pio Ancheta of La Union, Bagulin became a municipal district of Burgos under the Province of La Union.
In 1922, Mt. Province relinquished the municipality of Bagulin to the Province of La Union. During that time, however, Bagulin was considered only a municipal district of La Union. It was only in 1963, by virtue of Executive Order No. 42 issued by President Diosdado Macapagal, that Bagulin was converted into a regular municipality.
In 1928, the community center was moved to a settlement called Suyo where the present-day Poblacion is situated. The former community center was named Nangalisan which means an abandoned place in the Iloko dialect. Settlers who improved Suyo were Ilocanos who came from Naguilian. At that time, a bamboo chalet was constructed to serve as an administrative hall.
Generally, the entire town is hilly and mountainous. Lowest spot is found at Barangay Dagup, 115 meters above sea level. Slowly descending to a plateau down to Cabasitan River where the boundary with the town of San Juan is found. This highest peak is at Barangay Cardiz at 1,113 meters above sea level and where the common boundary with the municipality of Kapangan, Benguet is shared.
The municipality was discovered to have various physical and natural features potential for tourist spot development such as the Bagulin River, Loslosi Falls, and Cardiz Spring. In 1977, Allabok, Bagulin where the burial caves and hanging coffins are found, was declared a National Cultural Treasure.
Bagulin, the 20th municipality of La Union, was converted into a regular municipality in 1963.

Profile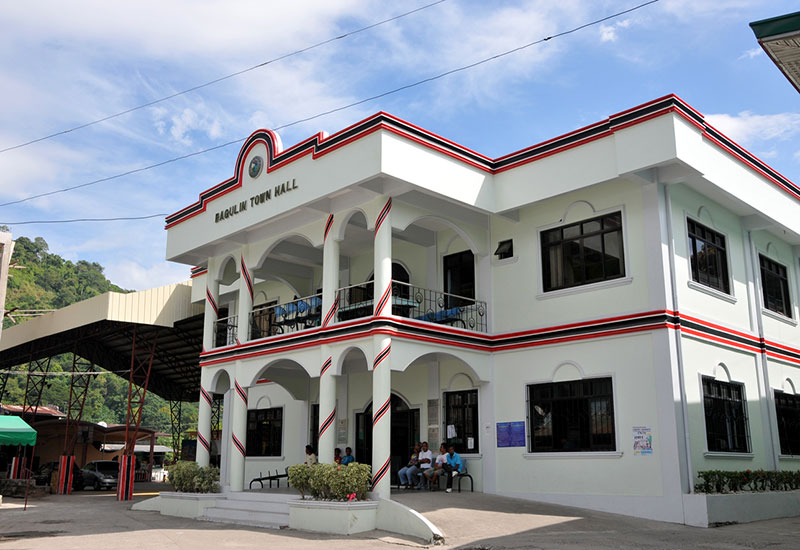 Bagulin, noted for its quality soft brooms, is a quiet town nestled among meandering mountains and the pristine Bagulin River. It can primarily be reached by taking the Naguilian-Bagulin Provincial Road or, alternatively, by minor roads from San Fernando City, San Juan or Burgos. Befitting this off-the-beaten-path destination, the 4x4 off-the-road challenge is being offered to adventurous visitors wherein they can venture into Bagulin's untamed interior landscapes.
Backpackers will find Bagulin an ideal spot for trekking and camping with such sites as Tagudtud People's Park, Loslosi Falls and Kedlap Burial Cave in Allabok which, with its cultural significance, was declared a National Cultural Treasure in 1977. Another site of note is Barangay Cardiz, La Union's highest point where one can find Tili Ti Nuang Falls.
Aside from its natural wonders, the municipality is resplendent with indigenous folklore. Bagulin was said to have been named after Bago, a daring highlander, Ulin, a beautiful lass from the lowlands, and their son Bagulin who grew up to become the best chieftain that ever ruled the community. The town used to be a part of Mountain Province, with Kankanaeys still comprising majority of the population today. It celebrates its Patronal Town Fiesta every March 16-19.
Dumanon Kayo Apo!
Quick Facts
Land Area: 10,733 hectares
Population: 14,521
Number of Barangays: 10
Classification: Fifth Class Municipality
Average Annual Income: Php 33,000,000.00

Politically Subdivided into 10 Barangays
| | | | | |
| --- | --- | --- | --- | --- |
| Alibangsay | Baay | Cambaly | Cardiz | Dagup |
| Libbo | Suyo | Tagudtud | Tio-angan | Wallayan |