By:  Jiroh Joy D. Marbella, GPC-SP |  By: Jiroh Joy D. Marbella  |  Date: July 16, 2018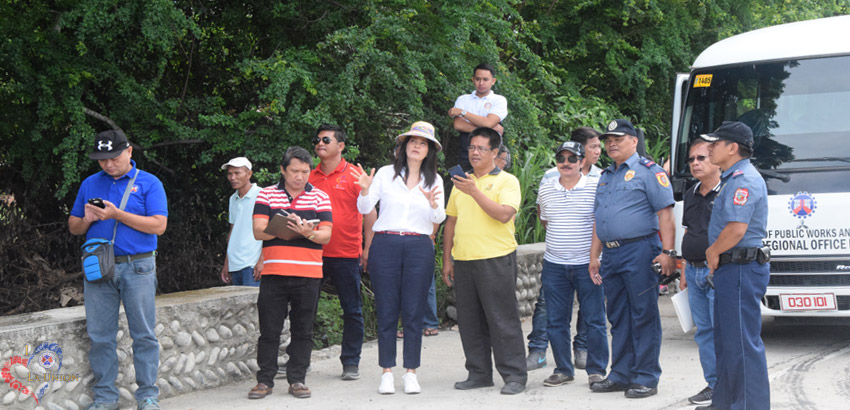 The ocular inspection team, led by Sangguniang Panlalawigan Member Annabelle S. De Guzman, witnesses the actual pruning and cutting of a dead acacia tree that pose as obstruction along the Manila North Road during the inspection on the status of widened roads conducted by the joint forces of DPWH 1st Engineering District and Municipal Risk Reduction and Management Office of Bacnotan La Union on July 6, 2018 at San Martin, Bacnotan, La Union.
The Sangguniang Panlalawigan (SP) Committee on Public Works and Utilities chaired by SP Member (SPM) Maria Annabelle S. De Guzman, conducted another round of ocular inspection of national highways in the Province of La Union dubbed as "The Kalsada Program: My Road, My Responsibility". The lady legislator was once again joined by the Department of Public Works and Highways (DPWH), La Union Police Provincial Office (LUPPO), Kyeoryong-Policarpio Joint Venture (KPJV), Department of Interior and Local Government (DILG), Provincial Environment Office (PENRO) and media partner Bombo Radyo La Union.
The inspection aimed to check the status of widened roads, revisit areas where road obstructions are prevalent and update on the status of ongoing projects and constructions. It also aimed to witness the cutting of dead and alive trees that pose as obstructions along the Manila North Road (MNR).
Through the ocular inspection, it was learned that almost 80% of roads in the 1st district are already widened. Parts of Balaoan and Bangar roads are currently under road widening works while the roads of Sudipen are on deck to be started. Bridges in Bangar and Balaoan are on the early stages of rehabilitation and widening while Taboc Bridge in San Juan is halfway done.
SPM De Guzman also led the team in inspecting a construction site in Santiago, Bauang, La Union, where massive mudflow recently took place causing traffic congestion. SPM De Guzman instructed the DPWH to work on the area to prevent erosion in the future which might pose danger to motorists.
SPM De Guzman assured that the SP Committee will continue to monitor status of the province's highways. "The advocacy of Kalsada Program will live and the vision that one day, the long stretch of national highway, that Manila North Road from Rosario to Sudipen will be one of the smoothest, fastest, hassle-free roads to travel within the entire Philippines," she said.
---