LA UNION SPEARHEADS TRABAHO, NEGOSYO, KABUHAYAN WEBINAR
By: Rowell B. Timoteo, GPC-PESO | Photo By: Noel Aspiras | Date: February 23, 2021
---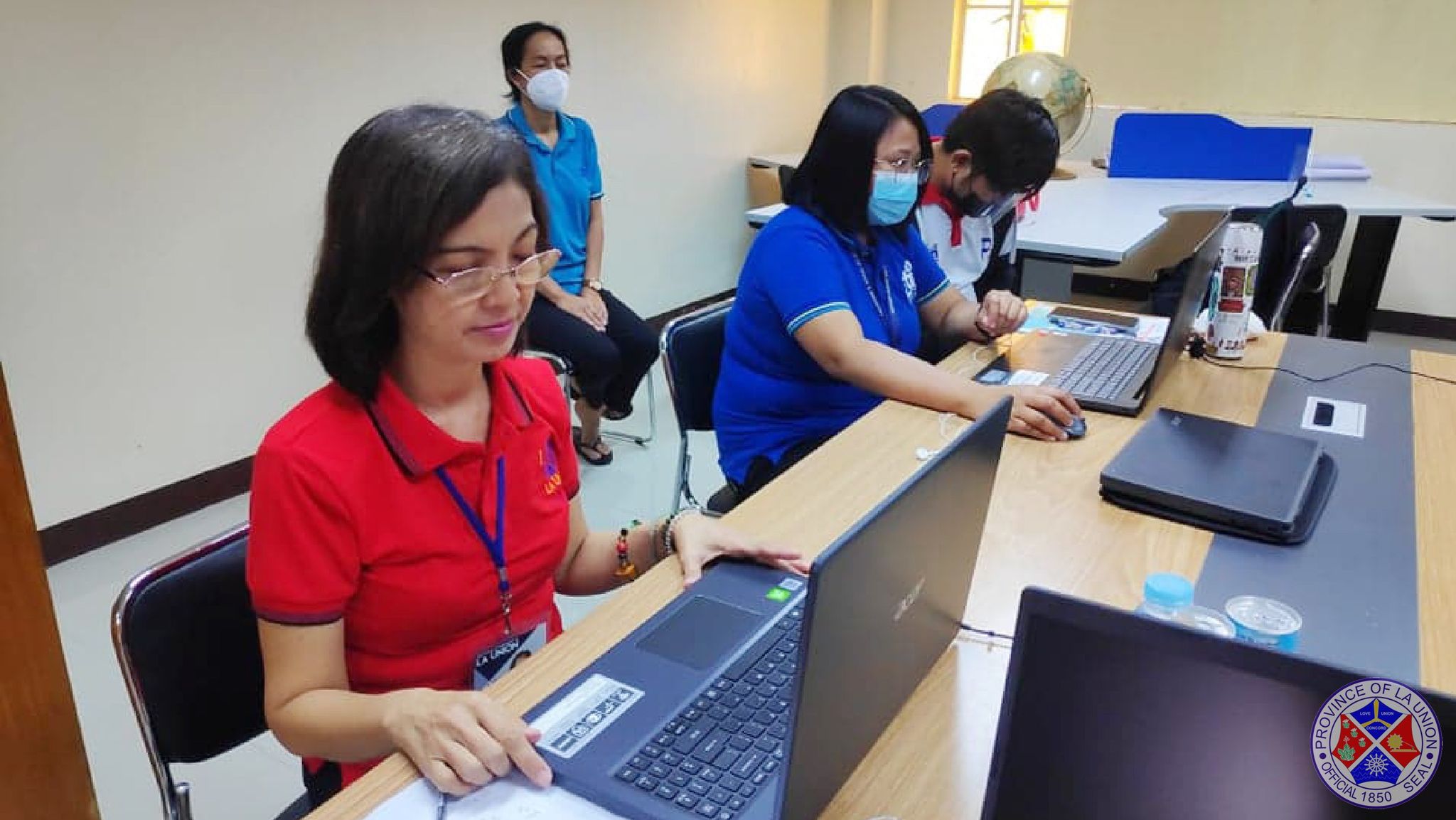 As part of the 171st La Union Foundation Anniversary Celebration, the Provincial Government of La Union (PGLU) through the Public Employment Service Office (PESO) in collaboration with the Department of Labor and Employment – La Union Field Office (DOLE-LUFO) and Department of Trade and Industry (DTI) La Union Provincial Office conducted the La Union Trabaho, Negosyo at Kabuhayan (TNK) Webinar for jobseekers and returning Overseas Filipino Workers (OFWs) held on February 23, 2021 at LUPAC Bldg., Quezon Ave., City of San Fernando, La Union.
PESO - La Union invited speakers from DTI La Union Provincial Office, Trade-Industry Development Specialist (TIDS) Ayra Rose A. Fontanos; Pondo sa Pagbabago at Pag-asenso (P3) Provincial Coordinator Rein Mike P. Quizon; and Senior TIDS Victoria A. Ordoño; and DOLE - LUFO represented by Labor and Employment Officer (LEO) III Janet Mendoza and LEO III Fredderick L. Gaerlan to educate the 45 participants on the necessary information and resources about Trabaho, Negosyo and Kabuhayan.
TIDS Fontanos taught the participants on how to understand, assess and appreciate the benefits in entrepreneurship. She discussed topics about the steps in starting a business, entrepreneurship and 21 small business ideas in the Philippines. She also presented the DTI programs and services on Export and Investment program, Industry Development Program, Small and Medium Enterprise Development and Consumer Protection.
For repatriated and returning OFWs who want to start their own business, P3 Provincial Coordinator Quizon discussed to the participants the program Helping the Economy Recover thru OFW Enterprise Start-ups (HEROES) of DTI. This is a component program of the P3 fund under the DTI that aims to provide assistance to repatriated and returning OFWs to rebuild their lives by providing opportunities in becoming entrepreneurs.
Senior TIDS Ordoño, in her speech, promoted cacao, bamboo crafts and loom weaving products as possible business ventures. She told the participants that DTI is always open and willing to help and invest in the capacities of those who are willing to engage in business opportunities in entrepreneurship.
LEO III Mendoza discussed the details of the DOLE Integrated Livelihood and Emergency Employment Program while LEO III Gaerlan presented the Employment Guide for Students and Jobseekers which included a guide in entrepreneurship. He also talked about the Expanded CoViD-19 Adjustment Measures Program and other programs that provide financial aid to displaced workers and returning OFWs.
The La Union TNK Webinar empowers those who are unemployed, active jobseekers and returning OFWs displaced by the CoViD-19 pandemic to find stable livelihood by venturing in entrepreneurship.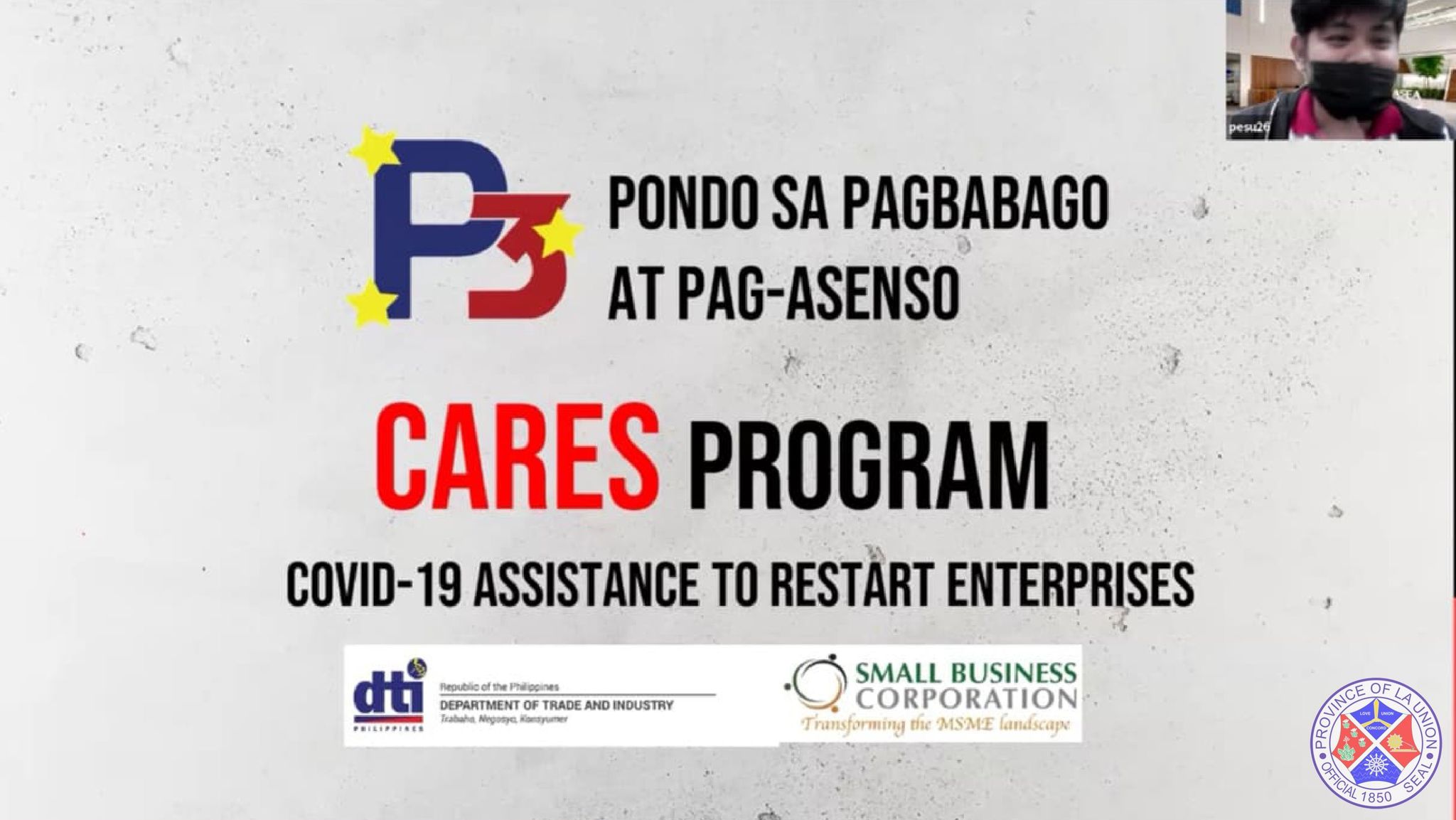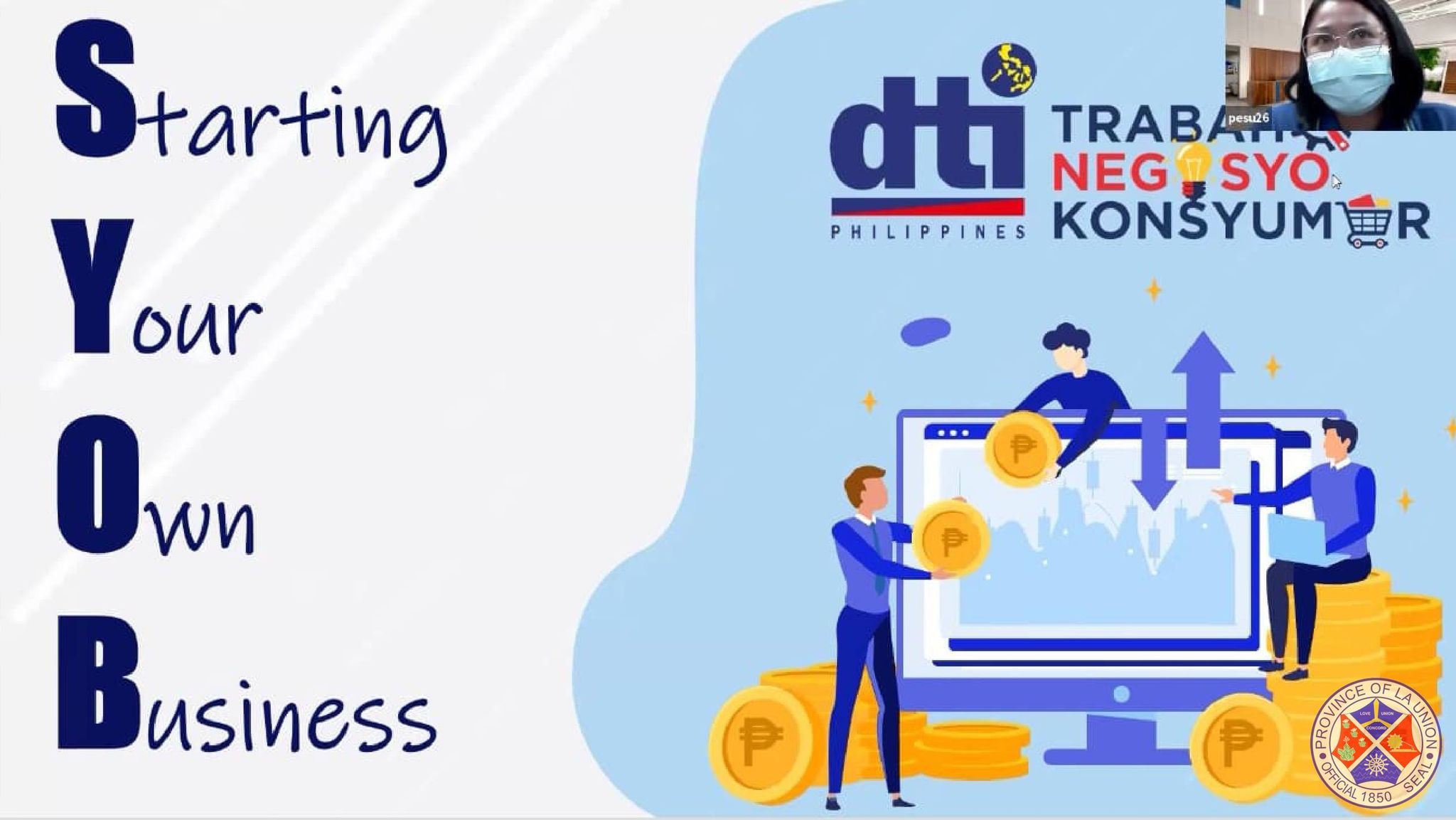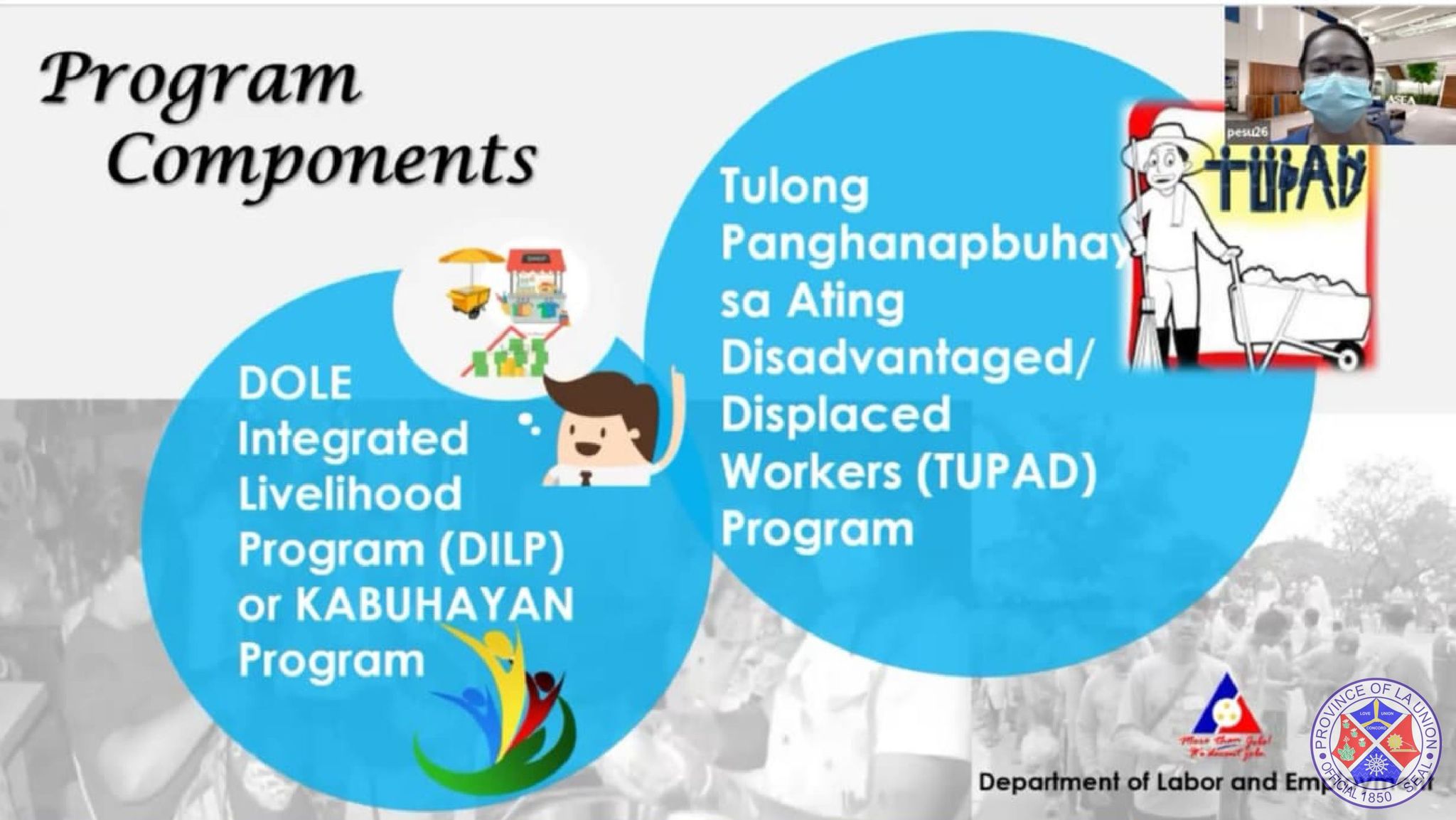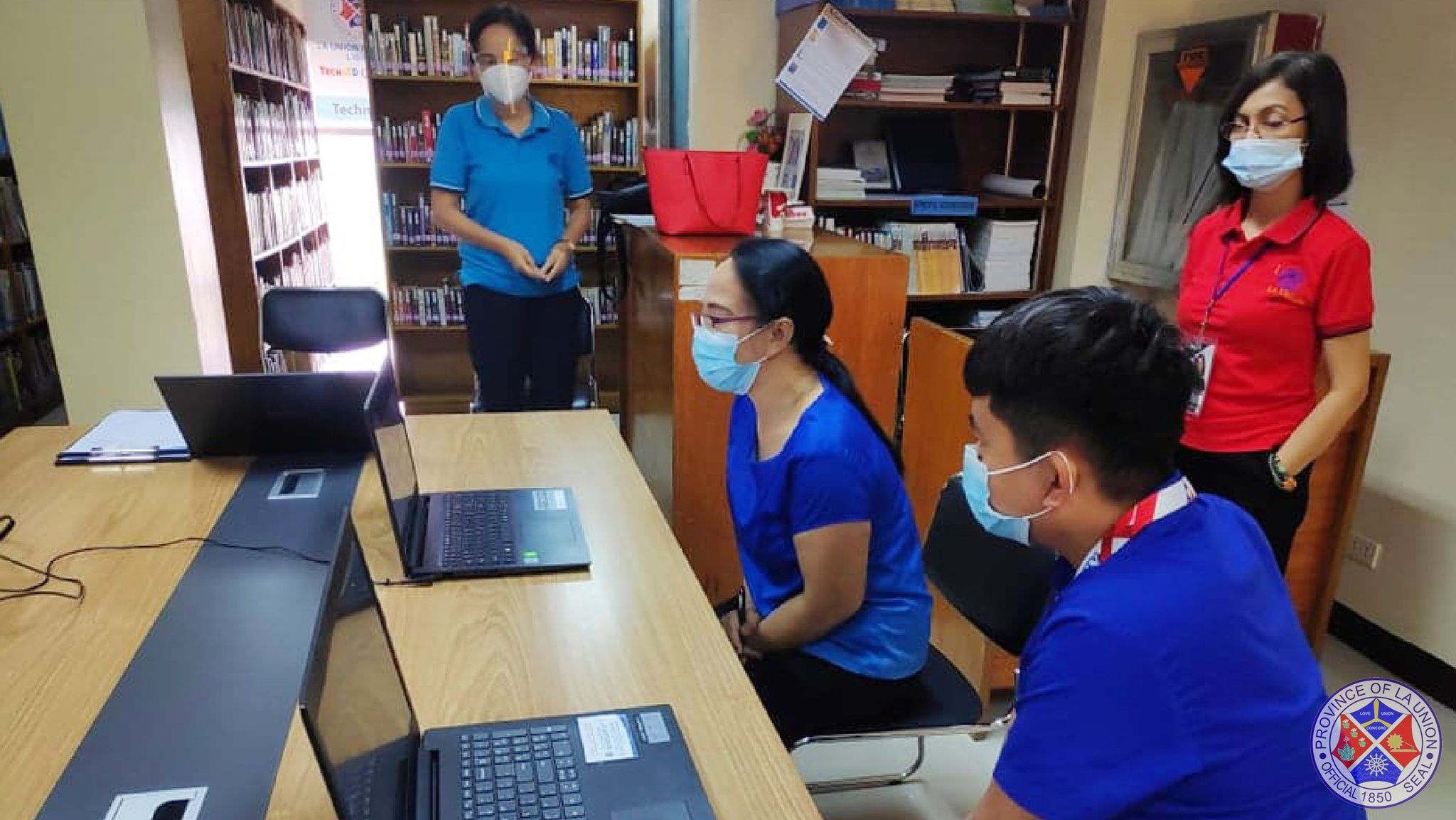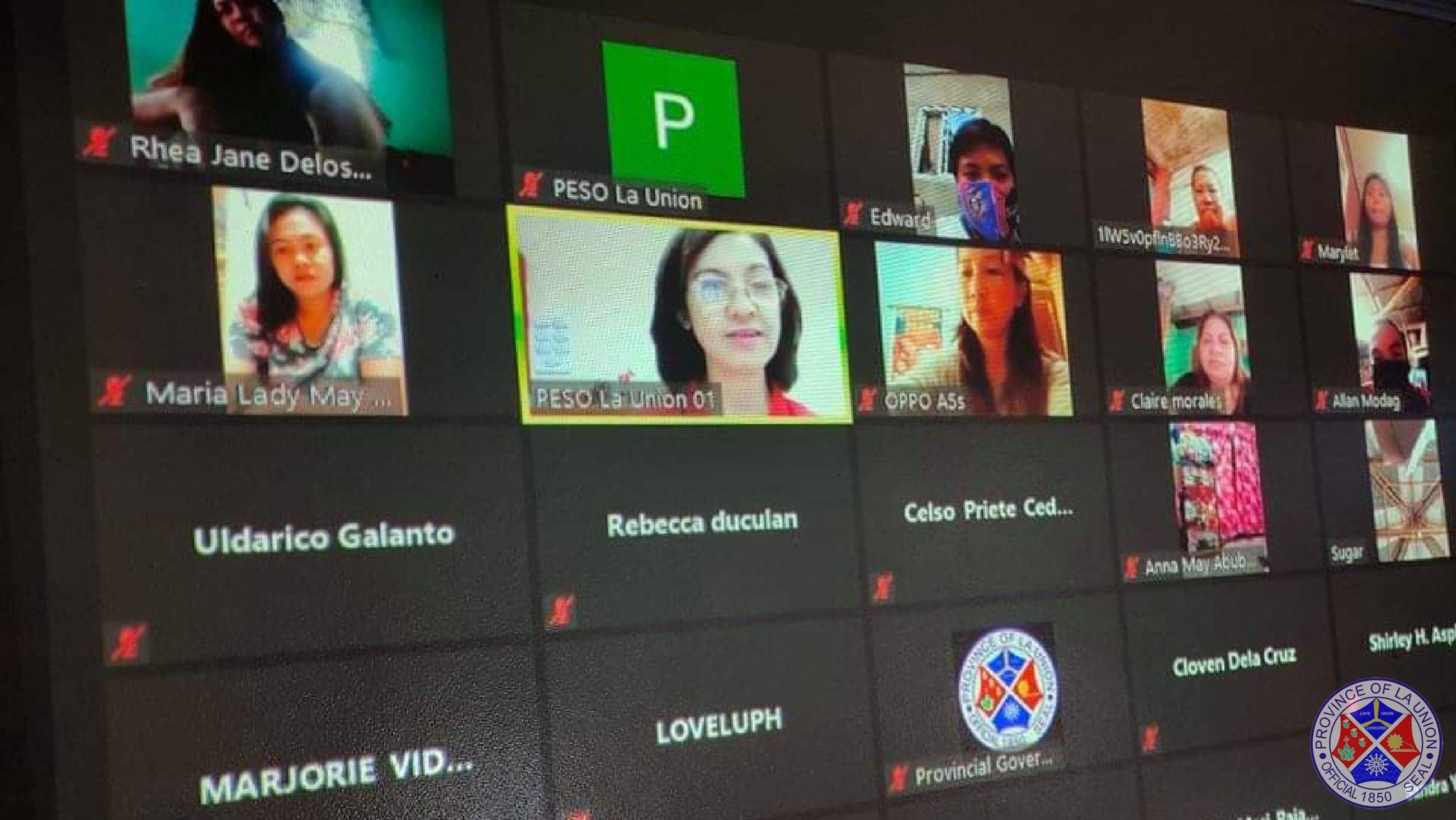 Recent Posts
Enabling La Union establishments and households in the fight against the CoViD-19 pandemic, the Provincial Government of La Union (PGLU) …