By:  Jane T. Flores |  By: GPC-SP |  Date: January 30, 2019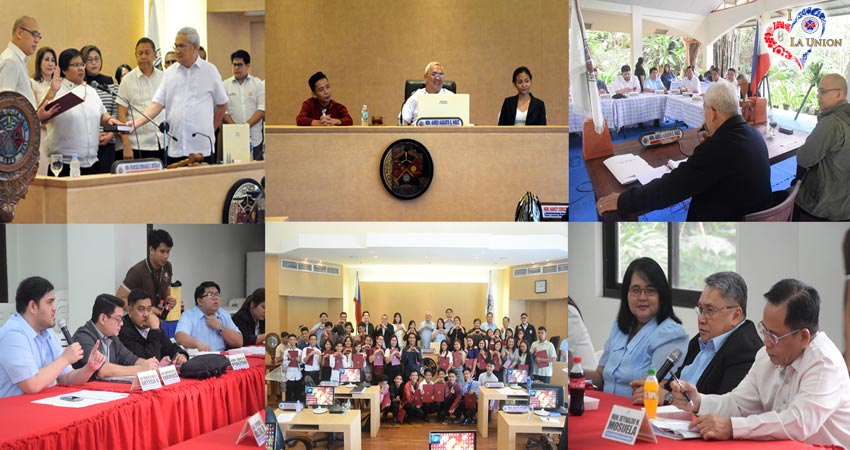 The 21st Sangguniang Panlalawigan (SP) generally fared above satisfactory in terms of main legislative indicators for Calendar Year 2018.
A total of 54 sessions were conducted exceeding the target of 52 sessions for 1 session per week rule as provided in the Local Government Code. From the 350 items as target in the SP Agenda, 660 items were accomplished. 488 items under calendar of business and 92 items under unassigned business were referred to appropriate committees.
There are 32 ordinances enacted out of the 6 ordinances target for the whole year showing SP's commitment to act on various issues that need corresponding policies. 15 of those ordinances were published. A total of 762 resolutions were approved out of the 400 target.
There are 98 urgent and 31 non-urgent letter-requests from the Office of the Governor requesting for action of the Sangguniang Panlalawigan, 100% of which were all acted upon through appropriate ordinances, resolutions and/or appropriation ordinances reflecting the harmonious working relationship of the Executive and the Legislative offices of the Provincial Government of La Union (PGLU) in terms of approving measures that are needed in the implementation of and sustainability of various development programs.
A Total of 547 committee meetings and 98 committee hearings were conducted and 291 committee reports submitted, rendered and adopted by the Sangguniang Panlalawigan.
There are 107 privilege speeches delivered during plenary sessions. SPM Bellarmin A. Flores II delivered the most number of privilege speeches with 33 speeches. SPM Reynaldo M. Mosuela followed on 2nd spot with 20 privilege speeches delivered. Tied for the 3rd and 4th spots are SPMs Maria Annabelle S. de Guzman and Ruperto A. Rillera, Jr. with 14 speeches each and on fifth post is SPM Nancy Corazon M. Bacurnay with 8 speeches delivered.
One administrative case was resolved, entitled, "Jacqueline Y. Chan, complainant vs. SBM Esther L. Cartas through SP Res. 105-2018. Series of hearings and amicable settlement meetings were conducted through the SP Committee on Ethics and Good Government, chaired by SPM Francisco Paolo P. Ortega V.
The attendance record of the Sangguniang Panlalawigan Members shows that SPM Reynaldo M. Mosuela perfected his attendance to all conducted sessions of the SP for CY 2018. Tied for the second spot are the SPM Maria Annabelle S. de Guzman and SPM Carlo Castor Concepcion who missed only one session. Also tied for 3rd post are SPM Bellarmin A. Flores II and SPM Ruperto A. Rillera, Jr. who, both missed 2 sessions.
---