Hon. Aureo Augusto Q. Nisce
Provincial Vice Governor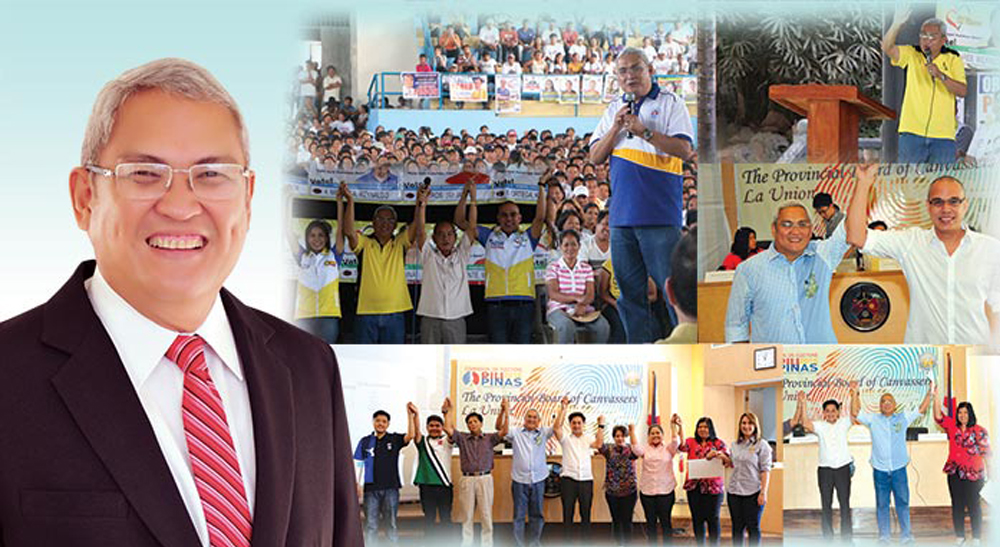 Advocacies
This public servant truly believes that we are all self-enablers, that the external inspiration we seek actually resides within ourselves. His political platform had always been consistent with his philosophy that help comes from within and the external resource we receive is the result of the positive actions we project. His brand of public service is based on merit well-earned where the productive is justly rewarded. His vision is to build a healthy and educated constituency who are self- reliant in their productive and creative capacity to build a beautiful and progressive province and nation. For him, help comes to those who help themselves and learn to walk the high route.
I. Health
To enhance the well-being of the constituents of La Union through an improved health and sanitation program. To lead the Sangguniang Panlalawigan in enacting Ordinances which will ensure that this desired programs will be realized. The good health and well-being of the youth is a main focus for without a sound and healthy mind, young people can never go to school and be educated.
II. Environment
In keeping with the thrust of the National Government to maintain a clean and green environment, it is his intention to actively pursue this plan by leading the Sangguniang Panlalawigan to enact legislation to preserve our environment, maintain unpolluted and sanitary communities within the Province.
III. Elderly
The elderly is also another sector that is important in his Master plan. He initiated the issuance of senior citizens discount cards in the Province which provided significant discounts for food and medicine and will continue pursue this program with focus on
their hospitalization.
IV. Livelihood
A very vital component of the people's life is their source of living. It is one of his priority programs to ensure that the economic & social condition of the consitutents of La Union are uplifted through a viable and reliable socio-economic agenda. Business will be encouraged and vigorously supported.
V. Peace and Order
A peaceful community will lead to a progressive community. It is vital for him to maintain a harmonious relationship with the police force who are tasked to ensure the safety of the constituents and to maintain a disciplined and orderly community. It is also intended to reach out to the people to do their part, encourage participation and cooperation in preserving the peace and serenity of everyone's community.
VI. Good Governance
It is his desire to serve with honesty and integrity. To serve the people with zealousness, keeping their interest above thyself and to guarantee that their human rights are protected and upheld.