PGLU TRAINS MORE TOUR GUIDES
By: Joy Ann L. Gurtiza, GPC-PIO | Photo By: Minoru Fujihara, PIO | Date: July 28, 2019
---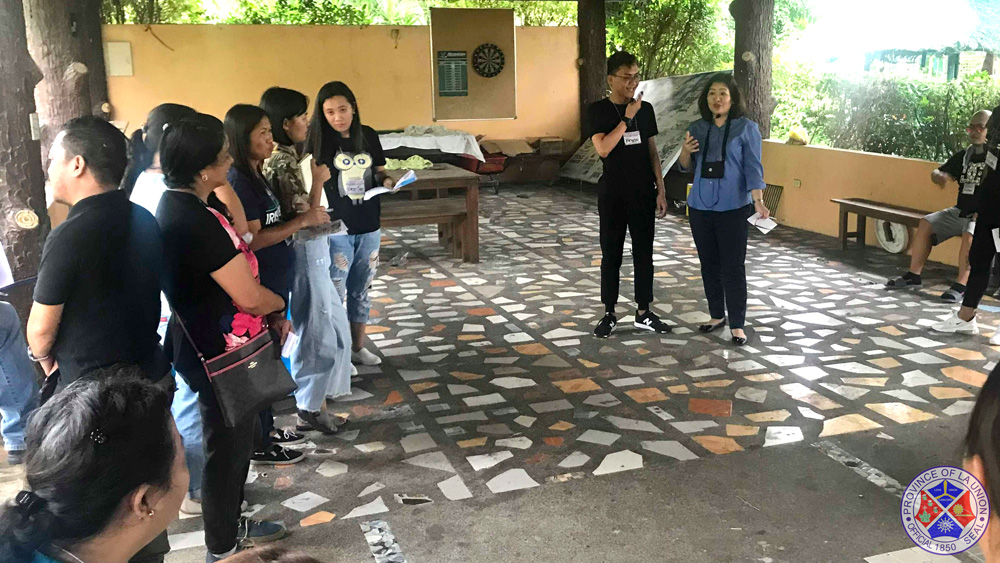 University of the Philippines-Asian Institute of Tourism Professor Yael T. Fernandez, DOT-Accredited Mabuhay Tour Guide, gives pointers and explains additional tips to the participants of the week-long Community Guiding Seminar during their Commentaries and Pre-Mock Tour sessions on July 26, 2019 at Marand Resort and Spa, Bauang, La Union. The said activities gauged the level of learnings of the participants from the training. 34 participants from various municipalities of South La Union joined the seminar and once they satisfactorily meet accreditation requirements will become Community Guides in their respective localities.
The Provincial Government of La Union (PGLU) through the Provincial Information Office – Tourism Operations Unit in collaboration with the Department of Tourism – Region 1 (DOT-RO1) organized another Community Guiding Seminar held on July 22 – 28, 2019 at the Brandon Hall, Marand Resort and Spa, Bauang, La Union.
34 participants from various Local Government Units (LGUs) of South La Union composed of tourism officers, students and teachers, SK and barangay officials, tourism attractions/enterprises' owners/managers, and other tourism frontliners and residents of nearby major tourist attractions completed the week-long seminar.
Sangguniang Panlalawigan Member Christian I. Rivera, Chairperson of the Committee on Tourism, graced the activity on behalf of Governor Francisco Emmanuel "Pacoy" R. Ortega III and highlighted the province's commitment in achieving its vision of making La Union the Heart of Agri-Tourism in Northern Luzon by 2025 to propel a more dynamic and sustainable development for La Union. "We have capacitated our tourism front liners as we aim to bring in more visitors to our province," he said.
On the other hand, Assistant DOT-RO1 Regional Director Modesto O. Baloloy emphasized that Tourism in La Union is in need of young people to learn things, saying, "It is very important that we have these kind of people (tour guides), knowledgeable people to help promote the province. We educate representatives from different potential barangays to tap them to share the knowledge they learned from these trainings to the rest of the community."
During his presentation on La Union Tourism Destinations, Attractions, and Activities, Provincial Tourism Officer-Designate Adamor L. Dagang challenged the participants as future tour guides to be active partners in making La Union Tourism more colorful and enchanting by sharing their talents in storytelling and as protectors of natural wonders and said: "The main driving force for tourism is the people themselves. Having well-trained tourism frontliners and providers in our province would definitely make our tourism programs sustainable."
Topics discussed included an Overview of Tour Guiding Course and Tourism Industry; Child-Safe Tourism; Gender and Development, Personality Development and Communication Skills; Tourist Safety and Protection, Environmental Awareness, Sustainable Tourism and Ecotourism; Basic Life Support and First Aid; Developing Tour Guides Knowledge, Skills and Attitude; Tour Guide Commentaries; DOT Accreditation, Protocol and Social Graces; and other important things a tour guide must know. Familiarization tours, fieldwork, and researches were also part of the module. There were likewise written and oral exams for the duration of the course and assessment.
University of the Philippines-Asian Institute of Tourism Professor Yael T. Fernandez, DOT-Accredited Mabuhay Tour Guide and Resource Speaker, expressed, "Tour guiding is not only taking people to beautiful places and taking pictures, it's about sharing history, and culture."
Currently, La Union lists 96 accredited active and inactive community guides. PGLU appealed to the LGUs of the province to create an ordinance for their areas to encourage accreditation of tour guides and to stop "kolorum guides."
After the seminar, the tour guides are expected to apply for DOT accreditation once they satisfactorily meet the accreditation requirements. Same training course is scheduled this coming October 2019 for the LGUs of North La Union.
Recent Posts
National Security Adviser and Director General Hon. Hermogenes C. Esperon, Jr. of the National Security Council calls to order the …