Executive Order No. 03 S. 2021 of the Provincial Governor
---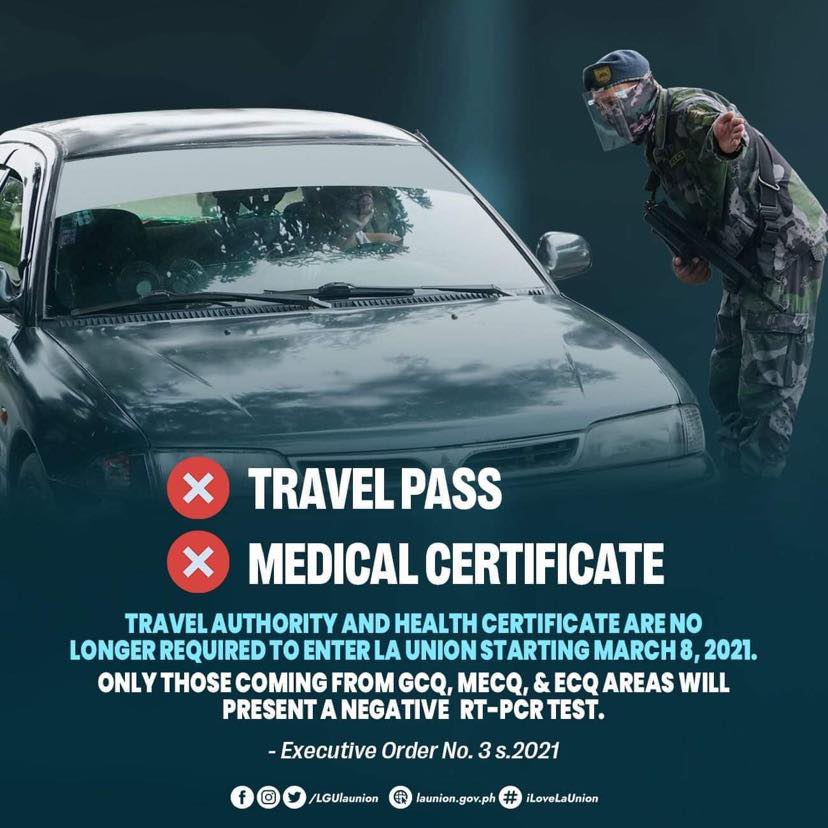 📢 According to ✅ Executive Order No. 03 S. 2021 of the Provincial Governor, starting tomorrow, March 8, 2021, Travel Pass and Medical Certificate are no longer needed for those entering La Union.
You just need to undergo clinical assessment (temperature check, etc) in border controls and scan NAPANAM QR codes.
Only those coming from GCQ, MECQ, and ECQ areas need to show a negative RT-PCR test.
For registration on NAPANAM Contact Tracing Web App, follow this link: https://npnm.launion.gov.ph/#/regqrpass
Here is the link to EO again: bit.ly/LaUnionEO3_2021
Although travel documents have been made easier, we still need to follow the health protocols 😷, the provinces, for the betterment of all especially our families.
Recent Posts
Enabling La Union establishments and households in the fight against the CoViD-19 pandemic, the Provincial Government of La Union (PGLU) …