By:  MARLON C. RUNAS |  By: GPC-CDH |  Date: January 21, 2019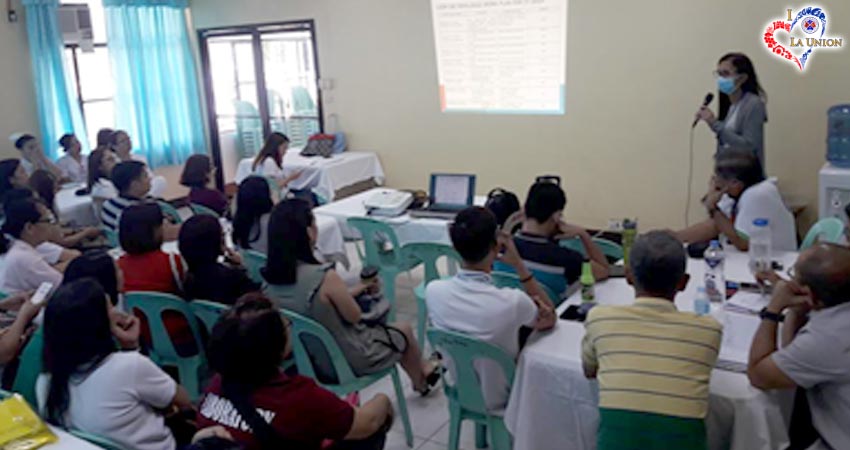 Caba District Hospital Chief Dr. Gretchen F. Aromin, Lead Auditor for District Hospitals, discusses the process of Internal Audit during the La Union District Hospitals (LUDHs) ISO 9001:2015 Internal Audit Opening Meeting held at the La Union Technology and Livelihood Development Center on January 21, 2019. The said event was participated by the Chiefs of Hospital, LUDH Internal Auditors and Deputy-ISO Facilitator for Districts.
NAGUILIAN, LA UNION- The La Union District Hospitals (LUDHs) composed of Balaoan District Hospital (BLDH), Bacnotan District Hospital (BDH), Naguilian District Hospital (NDH), Caba District Hospital (CDH) and Rosario District Hospital (RDH), conducted the ISO 9001:2015 Quality Management System (QMS) Internal Audit Opening meeting on January 21, 2019 held at the Naguilian District Hospital Conference Room, Natividad, Naguilian, La Union.
Provincial Health Officer II and Deputy-ISO Facilitator for District Hospitals Dr. Hector T. Beñas, Lead Auditor for District Hospitals Dr. Gretchen F. Aromin, Assistant Lead Auditor Marlon C. Runas, and 55 Internal Auditors coming from LUDHs participated in the event.
Dr. Aromin discussed the agenda which included the acknowledgment of participants, discussion of the ISO 9001:2015 Work Plan for CY 2018, annual audit plan, detailed audit plan and reminders on the internal audit process.
Dr. Beñas expressed his gratitude to the LUDHs for their commitment in continuously implementing the ISO 9001:2015 QMS. He encouraged the auditors to continue their dedication in assessing the effectiveness of the organization's QMS and overall performance.
The LUDH Internal Audit proper will be conducted in every district hospital from January 22-24, 2019 and the closing meeting will be conducted on January 25, 2019 at CDH.
Integral to Gov. Pacoy's vision of a Healthy La Union, Happy La Union by 2022, the ISO 9001:2015 Internal Audit demonstrates compliance with QMS and how the processes are implemented and maintained. It aims for compliance to the requirements of internal and international standards & regulation, customer requirements, effectiveness of the implemented system in meeting objectives, explore opportunities for improvement, meet statutory and regulatory requirements and to provide feedback to the Provincial Governor.
All LUDHs are BS EN ISO 9001:2015 Accredited issued by National Quality Assurance (NQA) on November 15, 2017 valid until November 15, 2020. The certification is applicable for the provision of Health Care Services including inpatient, outpatient, emergency, diagnostics and laboratory.
---