𝗧𝗼𝘂𝗿𝗶𝘀𝗺 𝘄𝗼𝗿𝗸𝗳𝗼𝗿𝗰𝗲 𝗶𝗻 𝗟𝗨 𝘂𝗻𝗱𝗲𝗿𝗴𝗼𝗲𝘀 𝗧𝗿𝗮𝗶𝗻𝗶𝗻𝗴 𝗼𝗻 𝗙𝗶𝗹𝗶𝗽𝗶𝗻𝗼 𝗕𝗿𝗮𝗻𝗱 𝗼𝗳 𝗦𝗲𝗿𝘃𝗶𝗰𝗲 𝗘𝘅𝗰𝗲𝗹𝗹𝗲𝗻𝗰𝗲
By: Angelica Maranan-Maglanoc, GPC-LUPTO | Photos By: Mico Salamanca, LUPTO | Date: August 4-5, 2022
---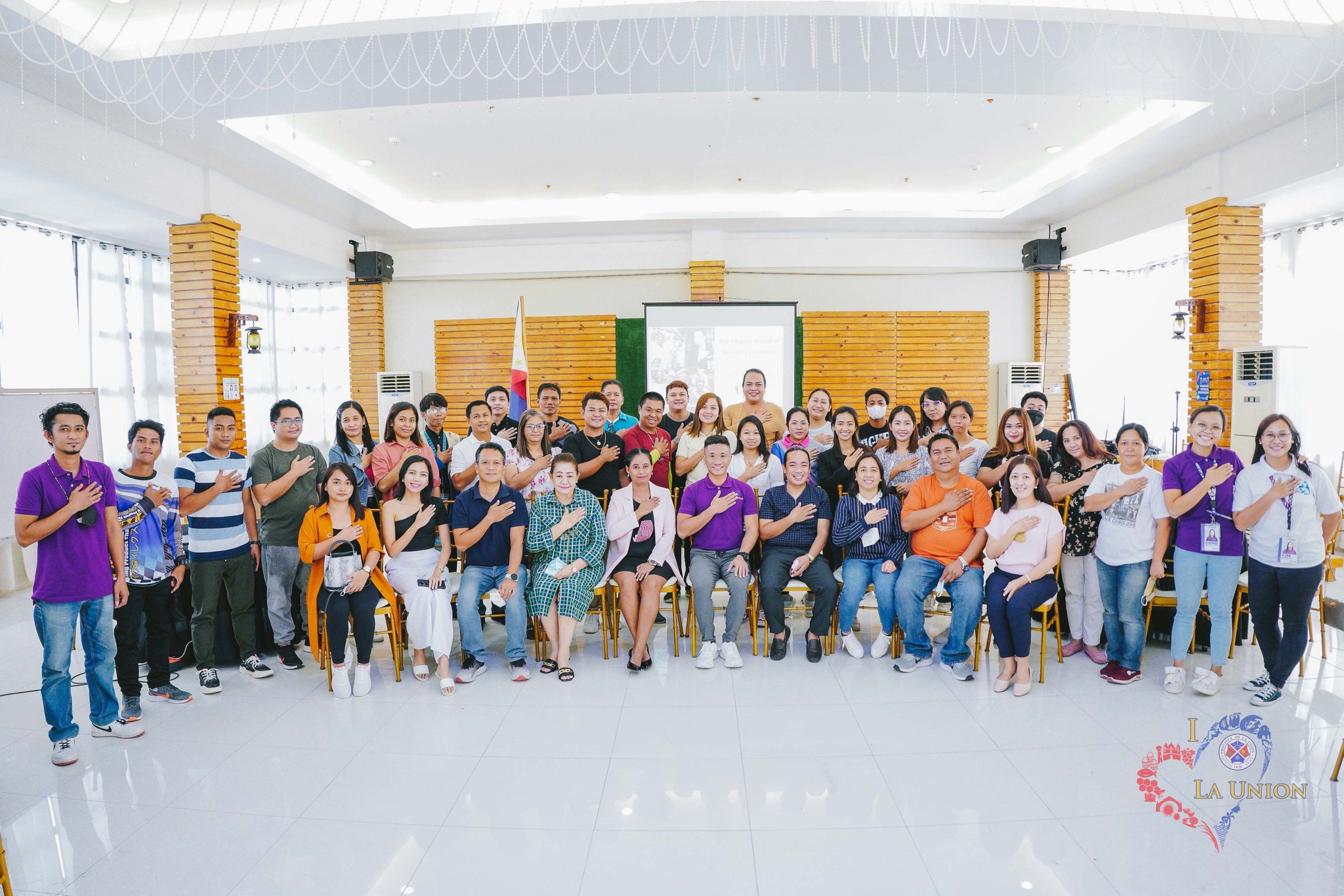 With the commitment to empower and capacitate the tourism workforce in the province, the Provincial Government of La Union (PGLU) thru the La Union Provincial Tourism Office (LUPTO) in partnership with the Department of Tourism - Region 1 (DOT-RO1) conducted a capability building training for tourism stakeholders entitled, "The Filipino Brand of Service Excellence". The said training was divided into two batches, the first district tourism stakeholders last August 2-3, 2022 at Plaza de Castiel San Juan, La Union and the second district tourism stakeholders last August 4-5, 2022 at Rosebowl Bauang, La Union. ASEAN Master Trainer for Tourism, Ms. LJ Rosales from the Department of Tourism - Region 1 served as the official trainer for the 4-day training development program.
The capability building training aims to update the tourism workforce about the latest trends and knowledge of tourism in the province. In addition, the said training encourages the industry development and collaboration for better outcomes. This will help tourism stakeholders understand the value of Service Excellence holistically.
As La Union reopens its door to tourists, it is but right to prepare the people on the ground, for them to give the best La Union experience every client deserves. As important as the readiness and compliance to health and safety protocols, tourism workers should also be equipped with the proper skills and values to provide quality and impactful service to tourists.
Jam-packed with interactive activities, an experiential type of training method was used to ensure the effectiveness of the learning insights to the participants. The topics discussed were, COVID – 19 and the Tourism Industry, Service Excellence and Tourism touch points and 7Ms of Filipino Values, among others. This learning opportunity empowers the role of tourism stakeholders in the acquisition of La Union's vision to be the Heart of Agri-Tourism in Northern Luzon.
Thus, developing the skills sets and instilling greater motivation to enhance work performance of tourism workforce provides increased productivity, and a life-long positive impact to the tourism industry of the province. Indeed, through #LaUnionProbinsyanihan steered by the P.U.S.O. Agenda, we rise above the challenges that the pandemic brought to the tourism industry. Our resilience and commitment to excellence will help tourism thrive for a #StrongerLaUnion!
Related Photos:
Recent Posts
Following the acceptance of the Province of La Union of the first batch of Moderna Vaccine comprised of 100 vials …