𝗣𝟴𝟲𝟮,𝟮𝟮𝟲 𝗦𝗮𝗹𝗲𝘀 𝗚𝗲𝗻𝗲𝗿𝗮𝘁𝗲𝗱 𝘁𝗵𝗿𝗼𝘂𝗴𝗵 𝗦𝗮𝗟𝗨-𝗦𝗔𝗟𝗢; 𝗦𝘂𝗱𝗶𝗽𝗲𝗻 𝗛𝗮𝗶𝗹𝗲𝗱 𝗕𝗲𝘀𝘁 𝗕𝗼𝗼𝘁𝗵, 𝗦𝗮𝗻𝘁𝗼 𝗧𝗼𝗺𝗮𝘀 𝗮𝘀 𝗧𝗼𝗽 𝗦𝗲𝗹𝗹𝗶𝗻𝗴 𝗕𝗼𝗼𝘁𝗵
By: Rowell B. Timoteo, GPC-PESO | Photos By: Rowell B. Timoteo, GPC-PESO and Provincial Information Office | Date: March 10, 2023
---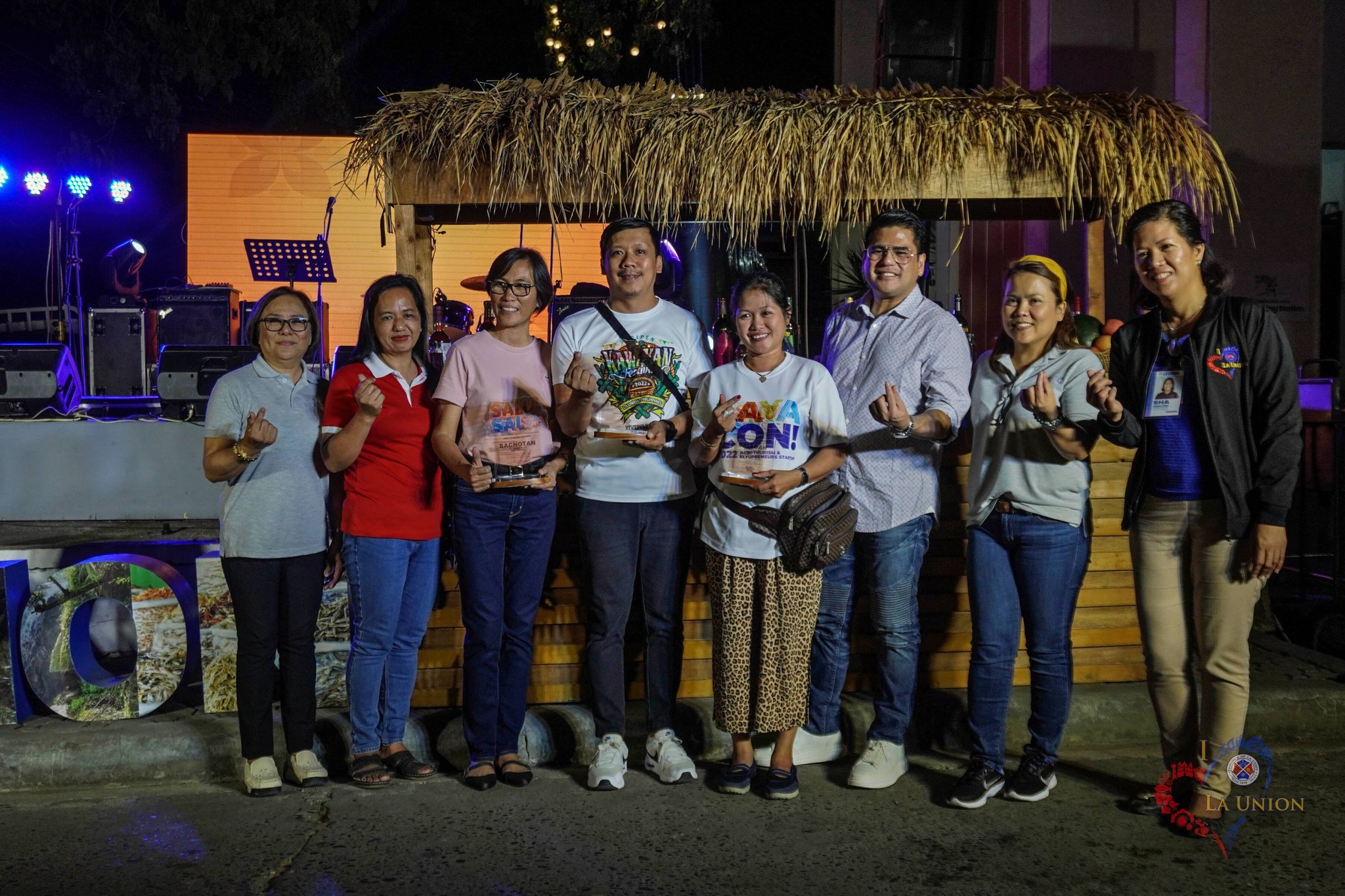 The SaLU-SALO: Saluad La Union para Serbisio, Agri-Turismo, Lako ken Oportunidad capped with a total of P862,226.00 sales hailing the Municipality of Sudipen as Best Agri-Tourism Booth and the Municipality of Santo Tomas was declared as the top selling booth with P122,400 sales on March 10, 2023 at the PasaLUbong Center, Mabanag Quadrangle, City of San Fernando, La Union.
The Municipalities of Bacnotan and Balaoan were also recognized as first and second runners up, respectively in the Best Agri-Tourism Booth award. The Municipalities of Aringay, Sudipen, Bagulin and San Juan also made notable sales of more than P50,000.00.
Further, 10 contestants from the different schools and tourism-related establishments also displayed their ability in combining creativity and technical expertise on mixing, blending and balancing different flavors to create a perfect drink.
In the Mocktail Competition, Ms. Christina Alexa Tangalin bagged the first prize while Mr. John Norman Boado and Mr. Mark Anthony Bingay bagged the second and third prize, respectively. For the Cocktail Competition, Mr. Adam Marzo was declared first place while Mr. Danver Keith Verano obtained the second place and Mr. Roger Malano as third place.
On behalf of Gov. Raphaelle Veronica Ortega-David, Provincial Board Member and Chairperson of the Committee on Trade, Commerce and Industry, Hon. Henry Boado Balbin, expressed his warm gratitude to all participating stakeholders who supported the La Union SALU-SALO as part of the 173rd La Union Foundation Anniversary.
The weeklong celebration of La Union SALU-SALO Agri-Tourism Trade Fair is a collaboration from the different offices of the Economic Dynamism and Competitiveness Sector, which is composed of the La Union Provincial Tourism Office, Office of the Provincial Agriculturist, Office of the Provincial Veterinarian, Provincial Engineering Office, and Local Economic Enterprise and Investment Promotions Unit.
Related Photos:
Recent Posts
Following the acceptance of the Province of La Union of the first batch of Moderna Vaccine comprised of 100 vials …