𝗣𝗿𝗼𝘃𝗶𝗻𝗰𝗶𝗮𝗹 𝗖𝗮𝗽𝗶𝘁𝗼𝗹 𝗝𝘂𝗺𝗽𝘀𝘁𝗮𝗿𝘁𝘀 𝗔𝘂𝗴𝘂𝘀𝘁 𝗘𝗺𝗽𝗵𝗮𝘀𝗶𝘇𝗶𝗻𝗴 𝗼𝗻 𝗙𝗼𝗰𝘂𝘀, 𝗔𝗰𝘁𝗶𝗻𝗴 𝗙𝗮𝘀𝘁, 𝗕𝗲𝗶𝗻𝗴 𝗕𝗲𝘁𝘁𝗲𝗿
By: Camille R. Bumatay, PIO | Photos By: Wendell Tangalin & Sonny Buenaventura, PIO | Date: August 1, 2022
---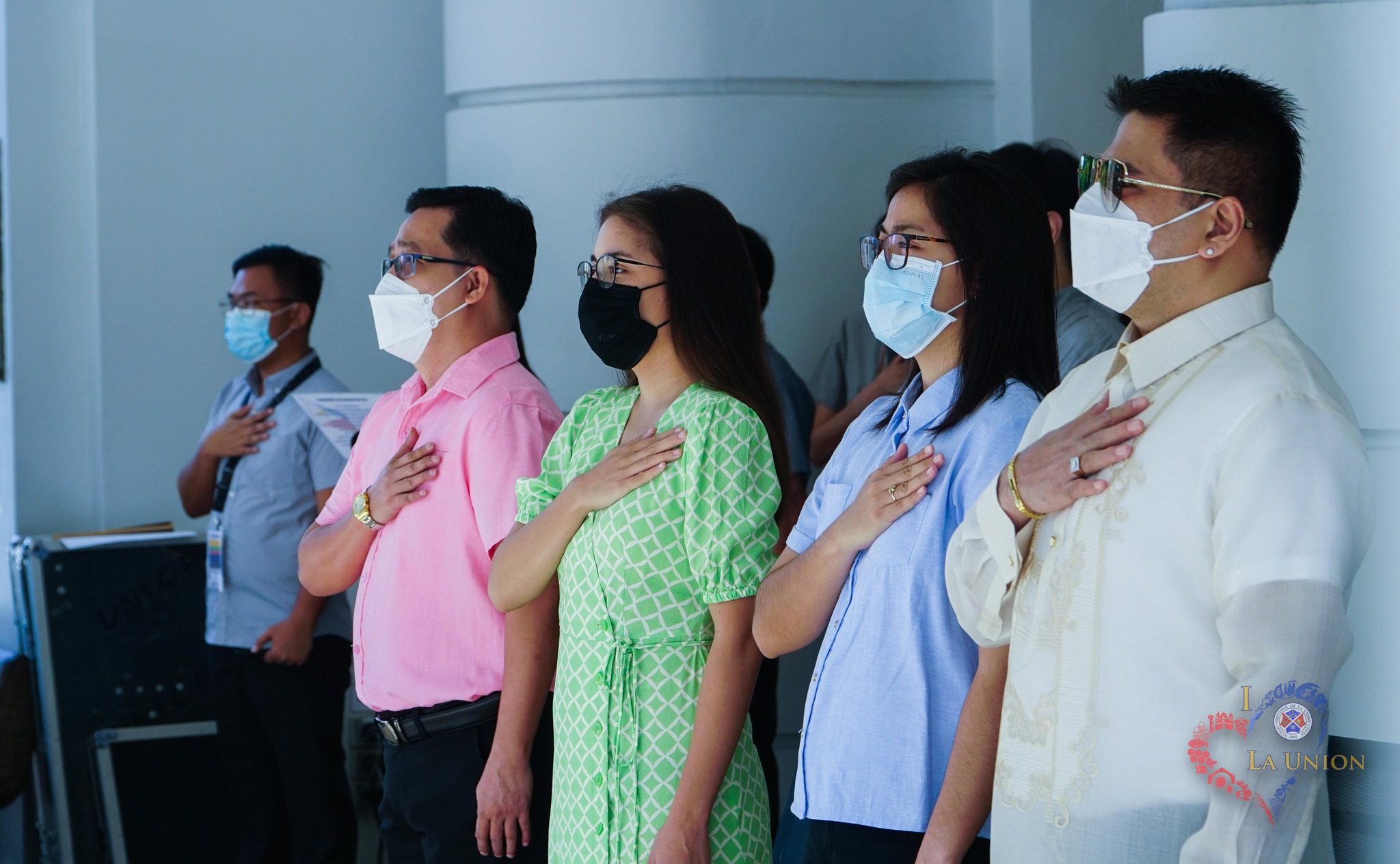 Jumpstarting the month of August, the Provincial Government of La Union (PGLU) led by Gov. Raphaelle Veronica "Rafy" Ortega-David revisits the milestones of the first month of the new administration highlighting the timely and quick actions taken by the different offices in the events that transpired in the past month during the First Monday Flag Raising Ceremony on August 1, 2022.
Also underlined were the actions taken by the different offices and hospitals in attaining their commitments for the first 100 days. "Time really is of the essence. But alongside being fast, we all should also try to be better everyday. With the pace at which our society progresses, we as the Provincial Government have to do what it takes to stay relevant," said Gov. Rafy Ortega-David in her message.
Another highlight of the activity is the oath taking of 44 newly-appointed employees of the PGLU administered by Gov. Rafy Ortega-David. The employees will be of support towards the achievement of the different targets in the province. Further, 4 Service Awardees or Retirees were also recognized.
Finally, the Governor also dedicated a message for Ms. Elizabeth Rimando, an employee of the PGLU whose demise bears impact in the operations of the organization as the Capitol is in half-mast along with the paying of respect to the passing away of former president Fidel V. Ramos.
When asked by the Governor if they are still in full dedication to execute all commitments, the PGLU employees also gave their resounding YES along with the passion to unite in #LaUnionPROBINSYAnihan.
Related Photos:
Recent Posts
Following the acceptance of the Province of La Union of the first batch of Moderna Vaccine comprised of 100 vials …