𝗣𝗛𝗢 𝗣𝗥𝗢𝗣𝗢𝗦𝗘𝗦 𝗣𝗟𝗔𝗡𝗦 𝗧𝗢 𝗔𝗗𝗗𝗥𝗘𝗦𝗦 𝗛𝗜𝗩/𝗔𝗜𝗗𝗦 𝗖𝗔𝗦𝗘𝗦 𝗜𝗡 𝗧𝗛𝗘 𝗣𝗥𝗢𝗩𝗜𝗡𝗖𝗘
By: Rhea Matilde A. Ballesteros, GPC – SP | Photos By: SP-LU | Date: January 10, 2023
---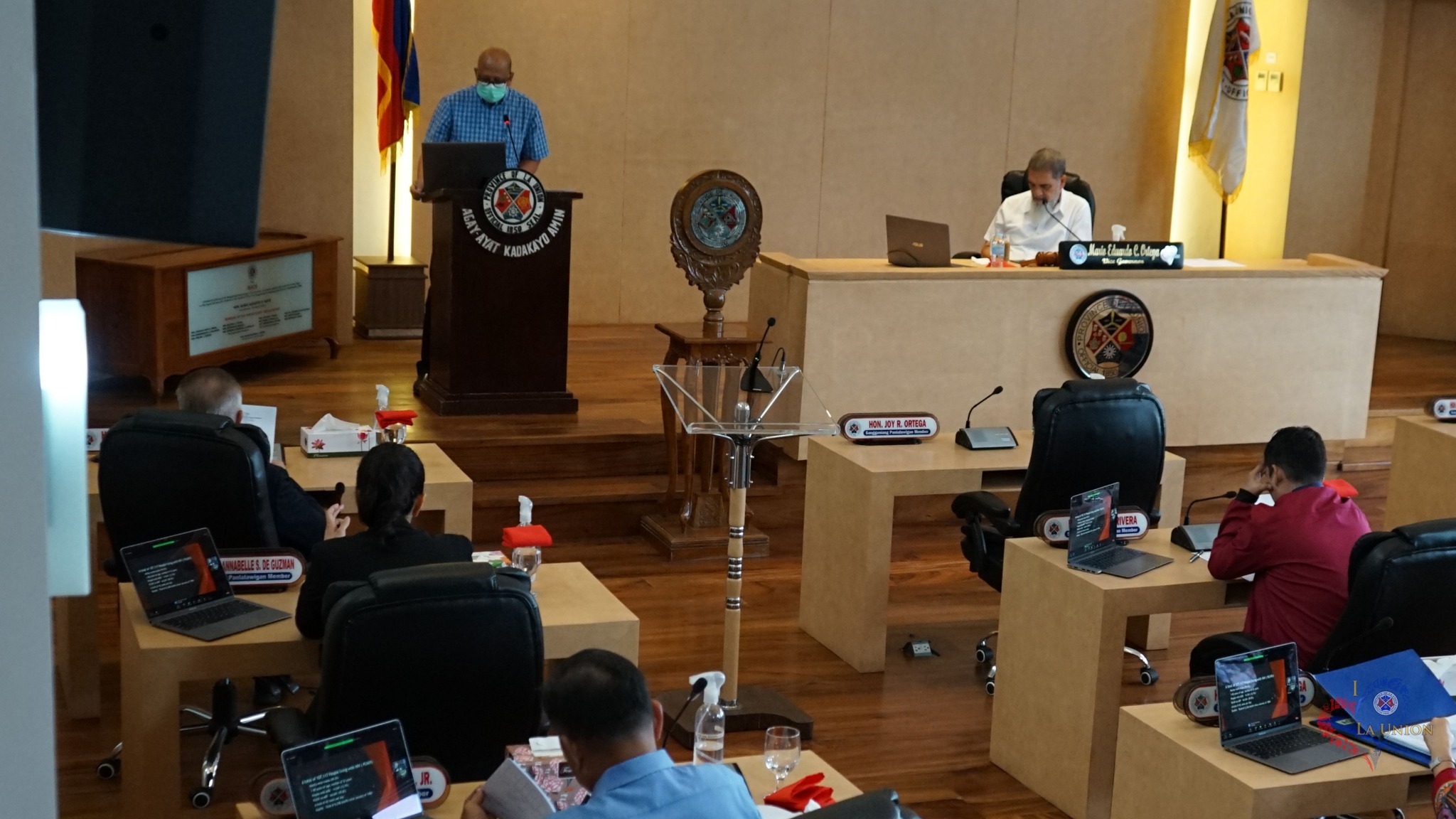 With an aim to intensify HIV/AIDS control programs in the province, the Provincial Health Office proposes plans before the Provincial Board Members to prevent the increase of HIV/AIDS cases as discussed during the 28th Regular Session of the 23rd Sangguniang Panlalawigan on January 10, 2023.
Provincial Health Officer Dr. Eduardo Posadas reported that from the year 1984 to October 2022, the province has marked 471 cases of HIV/AIDS, 56 are female and 415 are males with 34 deaths. His report also includes the LGUs with the most number of cases and the age group and gender mostly affected by the said infection.
Dr. Posadas informed of the various programs and projects being implemented by the PHO such as community-based HIV screening training, conduct of seminars and trainings, awareness campaigns, testing and screening, and infectious caravans.
Likewise, the PHO proposed several approaches to minimize the number of cases, including the plan of making San Juan RHU and Agoo RHU social hygiene clinics; conduct of trainings for HIV proficient medical technologists for San Juan RHU; propose amendments to Provincial Ordinance No. 043-2013, which created the HIV/AIDS Council, particularly on additional funds to strengthen the programs, projects, and activities for persons living with HIVs (PLHIVs); and ensure the availability of condoms to different hotels in all tourism sites in La Union.
The proposal for additional funding was referred to the Committee on Finance, Budget, and Appropriations as the lead committee for the committee's further study pending the submission of the PHO of the comprehensive and detailed programs and projects for HIV/AIDS.
The Provincial Government of La Union, led by Gov. Raphaelle Veronica Ortega-David, remains steadfast in its commitment to ensure the delivery of health interventions and promote equitable access to healthcare system that contributes to improving the quality of life of every Kaprobinsiaan which is vital in making La Union, the Heart of Agri-Tourism in Northern Luzon by 2025.
Related Photos:
Recent Posts
Following the acceptance of the Province of La Union of the first batch of Moderna Vaccine comprised of 100 vials …