𝗠𝗮𝗿𝗰𝗵 𝟭𝘀𝘁 𝗠𝗼𝗻𝗱𝗮𝘆 𝗙𝗹𝗮𝗴 𝗥𝗮𝗶𝘀𝗶𝗻𝗴 𝗙𝗼𝗰𝘂𝘀𝗲𝘀 𝗼𝗻 𝗚𝗿𝗮𝘁𝗶𝘁𝘂𝗱𝗲 𝗳𝗼𝗿 𝗣𝗚𝗟𝗨 𝗪𝗼𝗿𝗸𝗳𝗼𝗿𝗰𝗲 𝗘𝗳𝗳𝗼𝗿𝘁𝘀
By: Charissa Marie E. Go, GPC-HRMU | Photos By: Provincial Information Office | Date: March 6, 2023
---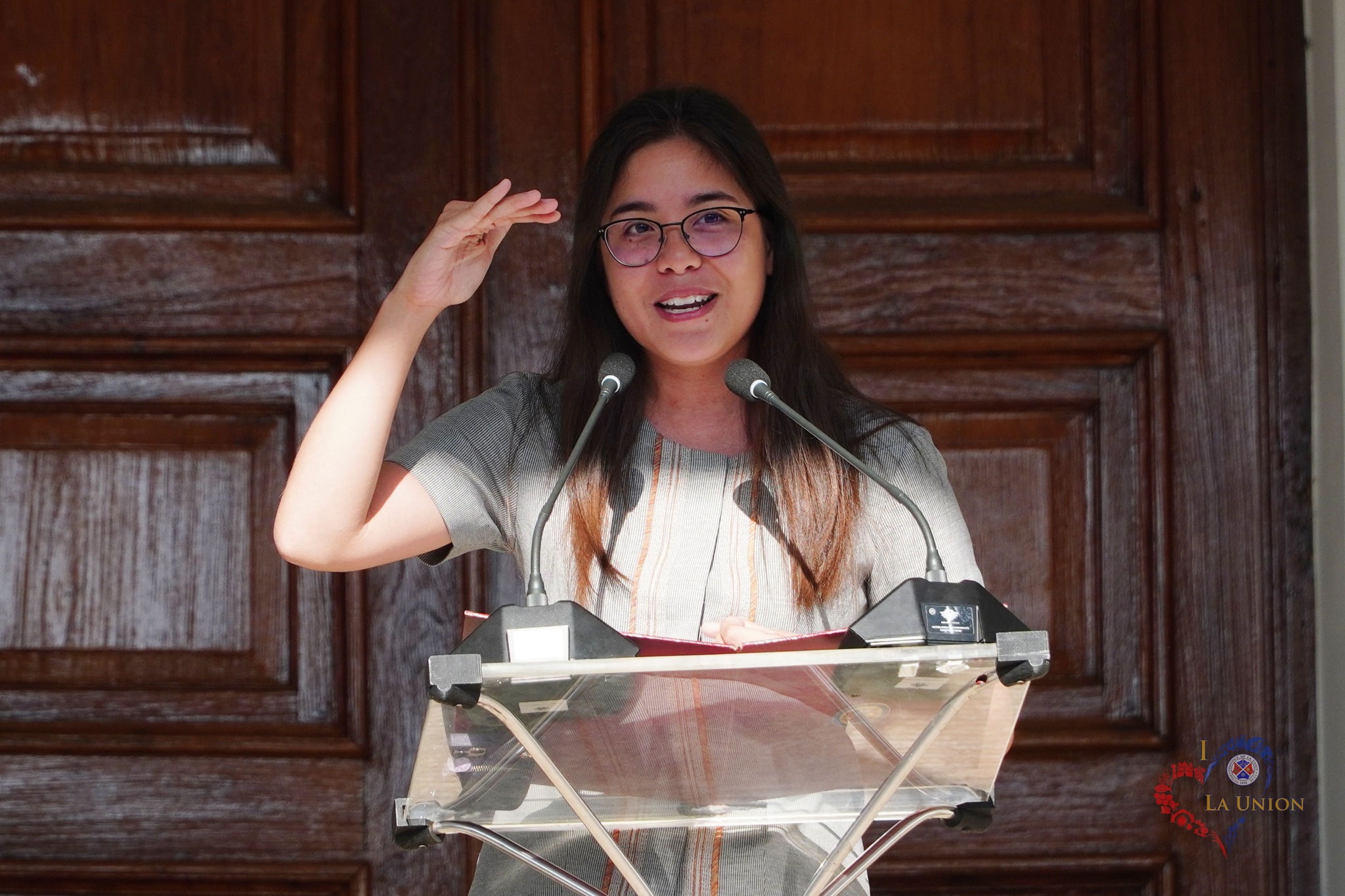 Gov. Raphaelle Veronica "Rafy" Ortega-David extended her warm appreciation to the entire Provincial Government of La Union (PGLU) workforce for their active participation and efforts in the conduct of events for the #AyatFest – the 173rd Founding Anniversary of the province. Speaking during the 1st Monday Flag Raising Program on March 6, 2023, Gov. Rafy said that the successful run of activities will not be possible without the help and assistance of every PGLU offices and its employees.
Following her message, she administered the oath-taking of 16 newly appointed employees. They were Mary Ann R. Marzan, Administrative Officer V (HRMO III) from the Office of the Provincial Administrator (OPA); Rozendel B. Peralta, Project Development Officer I and Carlo P. Mondina, Administrative Assistant II of the OPG – Local Economic Enterprise and Investment Promotions Unit (OPG-LEEIPU); Xaviery Kim M. Camba, Administrative Officer III, Diosdado C. Guron Jr., Administrative Officer I (Property Officer I), and Maribelle C. Flores, Administrative Assistant I of the Provincial General Services Office; Engr. Michael A. Manzano, Engineer IV, Engr. Joefrey N. Cargo, Engineer II, Engr. Roneal F. Alvia, Engineer I, Engr. Bernadine Louise R. Olbinado, Engineer I, and Engr. Florante B. Riña, Engineer I of the Provincial Engineering Office (PEO); Dr. Danica O. Dorao, Dentist II, Marlon C. Runas, Administrative Officer III (Records Officer II), and Tephanie Ruth J. Remorin, Nurse II of the Provincial Health Office (PHO); and Rachel D. Lubrica, Medical Technologist I of Bacnotan District Hospital (BDH).
Further, three service awards were conferred to retirees who have rendered notable and significant contributions to government service. These were Charito L. Fernandez of Naguilian District Hospital (NDH) with 33 years of service; Romulo A. Ducusin of NDH with 23 years of service; and Rimas G. Calixto of the OPG – La Union Provincial Jail (OPG-LUPJ) with 6 years of service.
All of this comes from a heart that serves a purpose in reaching out to improve the quality of life of people through sustainable and inclusive development to be of service to the people.
Related Photos:
Recent Posts
Following the acceptance of the Province of La Union of the first batch of Moderna Vaccine comprised of 100 vials …