𝗟𝗮 𝗨𝗻𝗶𝗼𝗻 𝗦𝘁𝗿𝗲𝗻𝗴𝘁𝗵𝗲𝗻𝘀 𝗖𝗼𝗹𝗹𝗮𝗯 𝗼𝗳 𝗧𝗼𝘂𝗿𝗶𝘀𝗺 𝗢𝗿𝗴𝗮𝗻𝗶𝘇𝗮𝘁𝗶𝗼𝗻𝘀; 𝗗𝗿𝗶𝘃𝗲𝘀 𝗘𝗰𝗼𝗻𝗼𝗺𝗶𝗰 𝗥𝗲𝗰𝗼𝘃𝗲𝗿𝘆
By: La Union Provincial Tourism Office | Photos By: Sonny Buenaventura, PIO | Date: August 5, 2022
---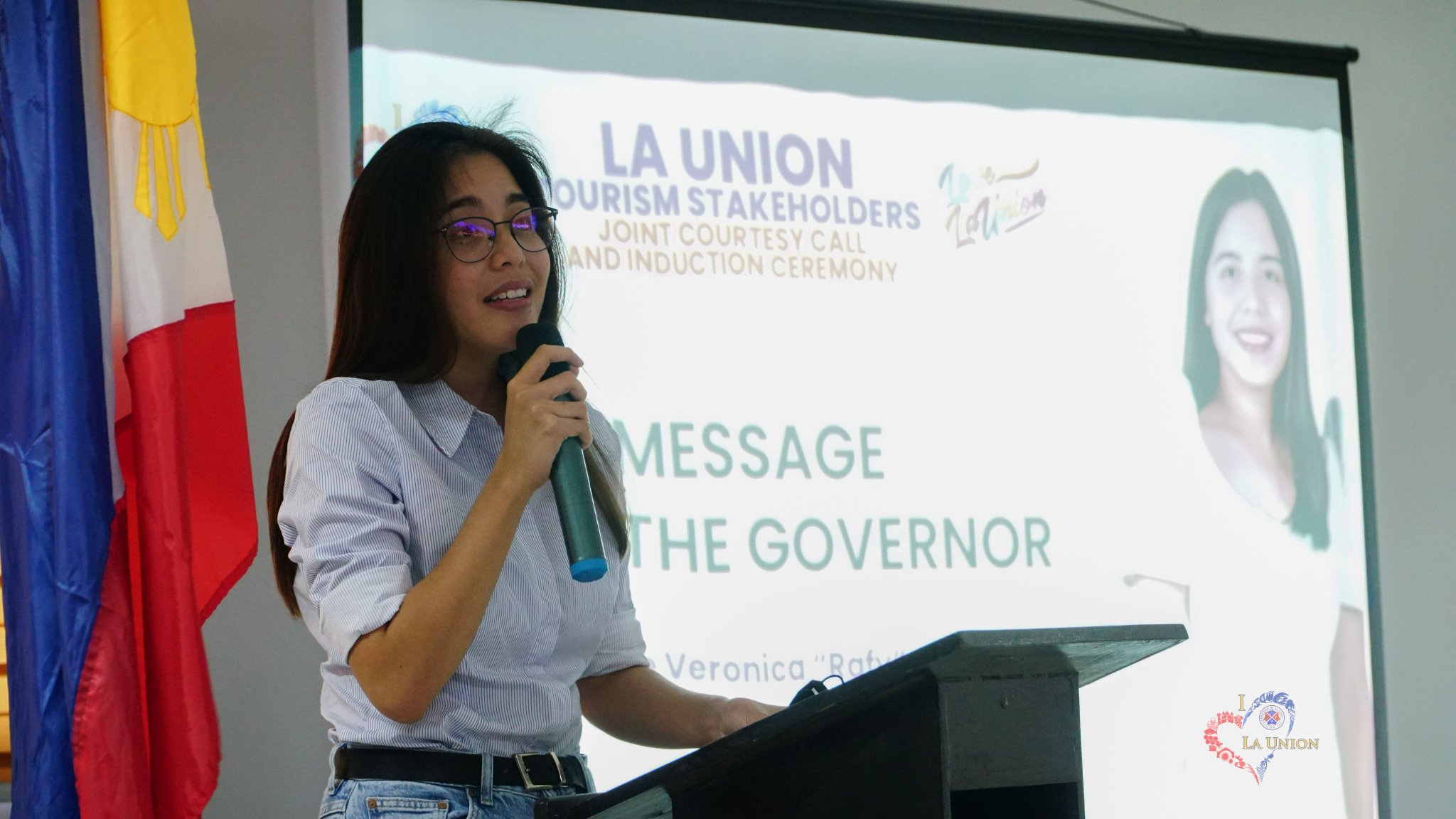 As a driving force for economic recovery, tourism enjoins everyone's involvement to advance the tourism scheme in the province. Accordingly, on August 5, 2022, the La Union Provincial Tourism Office spearheaded the Joint Induction Ceremony and Courtesy Call to the Governor of La Union Tourism Organizations at the La Union Peace, Order and Safety - Emergency Operations Center, City of San Fernando, La Union.
The said event was attended by La Union Tourism Organization Officers, tourism stakeholders, guests and Gov. Raphaelle Veronica "Rafy" Ortega-David, being the inducting officer.
Gov. Rafy, in her speech, underscored that tourism gives society a chance to elevate the economy and promote inclusive and sustainable development through opportunities that tourism brings forth.
She also highlighted that everyone has a vital role in having a responsive and inclusive tourism and well-preserved culture and the arts in La Union. Further, she motivated the Tourism Organization Officers to represent their respective organizations in the execution of the tourism development plan that will better shape the tourism industry in La Union.
The organization officers who took their oath were from La Union Culture and Tourism Officers Association; La Union Farm Tourism Association; La Union Alliance of Travel and Tour Agencies; Association of Active Tour Guides of La Union; La Union Surf Club; and Luna Association of Hotels, Resorts and Restaurants. Also present in the induction were La Union Hotel, Resort and Restaurant Association; Association of Tourism Industries and Networks - La Union; San Juan Resort, Restaurant and Hotel Association; and La Union Conventions and Visitors Bureau.
Having all the Tourism Organizations on-board paves way for a Province of La Union worth living in. Inspired by the P.U.S.O. Agenda and #LaUnionProbinsyanihan, tourism stakeholders together with the Provincial Government of La Union are geared towards developing a more resilient and sustainable Tourism, Culture and Arts.
Related Photos:
Recent Posts
Following the acceptance of the Province of La Union of the first batch of Moderna Vaccine comprised of 100 vials …