𝗟𝗨 𝗠𝗮𝗸𝗲𝘀 𝗛𝗶𝘀𝘁𝗼𝗿𝘆 𝗮𝘀 𝗙𝗶𝗿𝘀𝘁 𝗣𝗛 𝗣𝗿𝗼𝘃𝗶𝗻𝗰𝗲 𝘁𝗼 𝗢𝗯𝘁𝗮𝗶𝗻 𝗜𝗠𝗦 𝗖𝗲𝗿𝘁𝗶𝗳𝗶𝗰𝗮𝘁𝗶𝗼𝗻 𝗶𝗻 𝗔𝗹𝗹 𝗼𝗳 𝗶𝘁𝘀 𝗗𝗶𝘀𝘁𝗿𝗶𝗰𝘁 𝗛𝗼𝘀𝗽𝗶𝘁𝗮𝗹𝘀
By: Dayanella R. Jucutan, PIO | Photos By: PIO | Date: October 3, 2022
---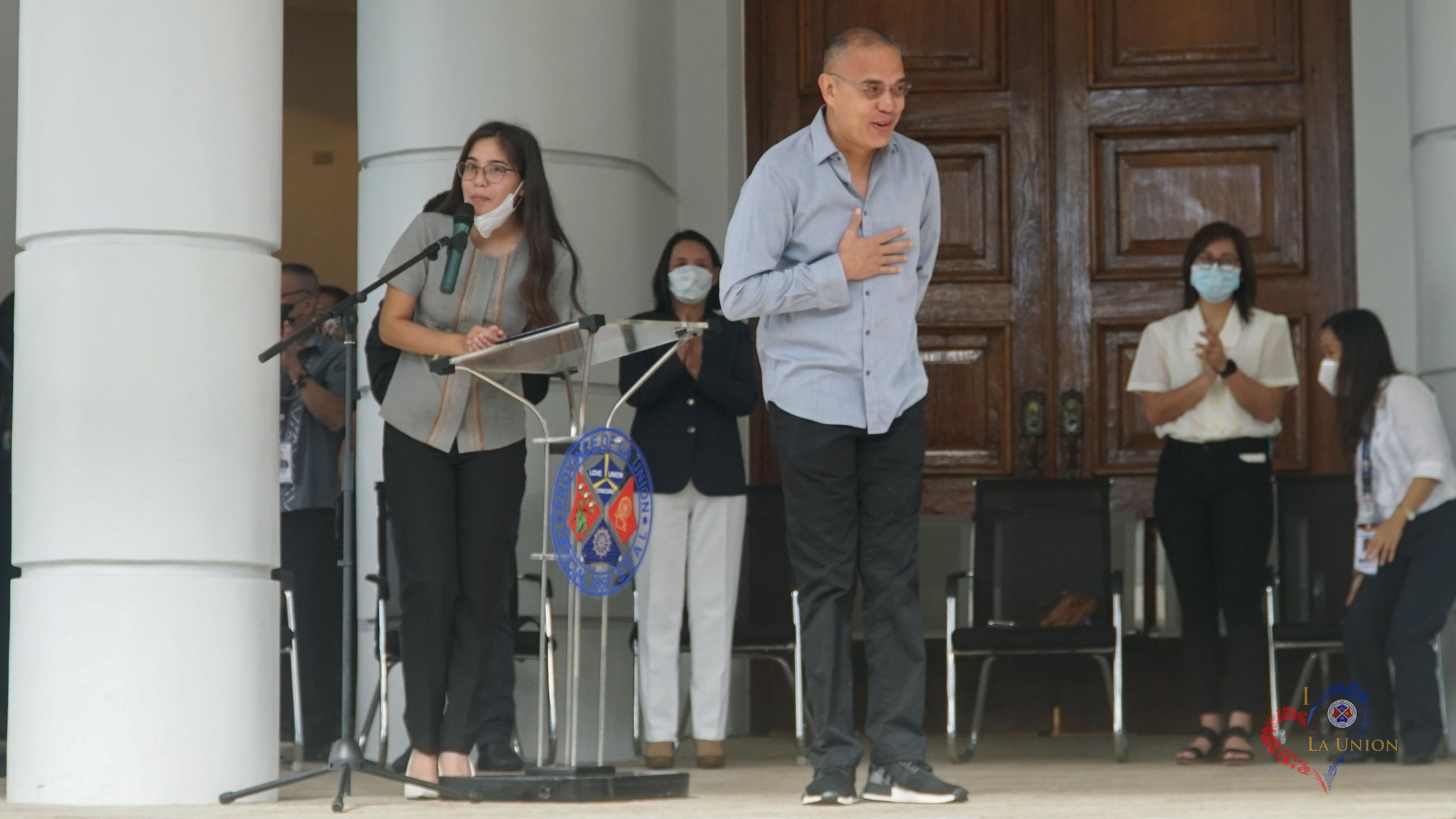 The Provincial Government of La Union lauds the perseverance of every front liner and employees of La Union District Hospitals who were awarded with the Integrated Management System (IMS) Certification, making La Union as the first ever province in the whole Philippines to house hospitals that passed the three IMS standards.
The district hospitals, namely Balaoan District Hospital (BalDH), Bacnotan District Hospital (BDH), Caba District Hospital (CDH), Naguilian District Hospital (NDH), Rosario District Hospital (RDH), and La Union Medical Center (LUMC), were audited thoroughly after passing all the standards that include ISO 9001:2015 or the Quality Management System (QMS); ISO 14001:2015 or the Environmental Management System (EMS); and ISO 45001:2018 or the Occupational Health and Safety Management System (OHSMS). Adhering to these standards is an indication of the people-oriented service from the employees, complying with the values of the province.
Among the good points emphasized by the auditors include commendable commitment by the top management and staff in implementing IMS; detailed SWOT Analysis and Risk Registry; Comprehensive IMS Management Review minutes of meeting; Availability of EMS Procedure; Commendable presentation of records and documents, and the competency of all workers; valid with PRC license. These are all essential factors in obtaining the highest standards in the services relating to the systematic integrated management system of the medical and health sector in the country.
The auditors also commended the compliance of the hospitals that were evident in how they ensured that all the rules and regulations were followed and the requirements needed were provided. With this, the hospitals secured the first spot in the whole country in obtaining IMS Certification. This award is a manifestation of the diligence and persistence of the employees in contributing to the welfare of every Kaprobinsiaan.
Rooted in the initiative of immediate past Governor Francisco Emmanuel "Pacoy" R. Ortega III, Governor Raphaelle Veronica "Rafy" Ortega-David commits to support the district hospitals and their employees as they continue to reinforce their effort and strive to pursue a more improved systematic integrated management system in the Province following the collective help from every Kaprobinsiaan centered on #LaUnionPROBINSYAnihan.
The said certification was awarded by Rannie Bernardino, the lead editor of National Quality Assistance (NQA) Philippines during the PGLU Capitol Flag Ceremony on Oct. 3, 2022. The certification was received by Gov. Rafy, BalDH Chief Dr. Mark Anthony Tomboc, BDH Chief Dr. Zenserly Pagaduan, CDH Chief Dr. Gretchen Aromin, NDH Chief Dr. Dan William Dacanay, RDH Chief Dr. Michelle Arellano, and LUMC Chief Dr. Glenn Earnest Fonbuena.
Related Photos:
Recent Posts
Following the acceptance of the Province of La Union of the first batch of Moderna Vaccine comprised of 100 vials …