𝗞𝗮𝗽𝗿𝗼𝗯𝗶𝗻𝘀𝗶𝗮𝗮𝗻 𝗹𝗮𝗻𝗱𝘀 𝟱𝘁𝗵 𝗦𝗽𝗼𝘁 𝗶𝗻 𝟮𝟬𝟮𝟮 𝗚𝗲𝗼𝗹𝗼𝗴𝗶𝘀𝘁 𝗟𝗶𝗰𝗲𝗻𝘀𝘂𝗿𝗲 𝗘𝘅𝗮𝗺
By: John Elysar C. Martin, PIO | Photos By: PIO | Date: January 6, 2023
---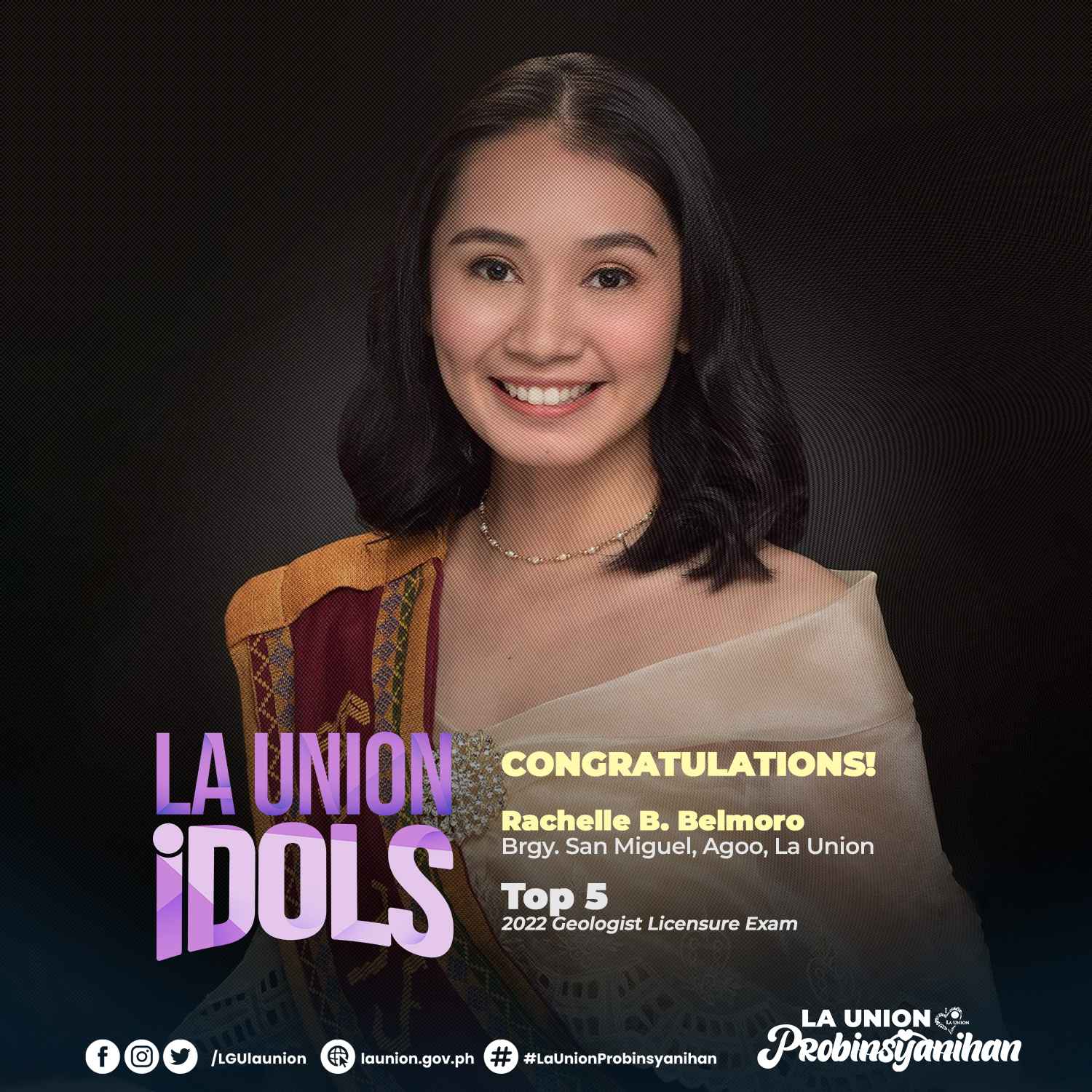 Garnering an average rate of 82%, Rachelle Belmoro of Brgy. San Miguel, Agoo, La Union placed 5th among the Top 10 highest rated passers in the November 2022 Geologist Licensure Exam, bringing pride and honor to the province.
The 22-year old Agooeña finished her Bachelor of Science in Geology degree and graduated as Cum Laude at the University of the Philippines Diliman last year.
The Provincial Government of La Union led by Gov. Raphaelle Veronica Ortega-David commends Ms. Belmoro for her outstanding achievement! As she pushes on forward as a licensed Geologist, let us all together wish her the best of luck in all of her endeavors! May her example inspire more kaprobinsiaan to do well, excel, and bring pride to our fair La Union!
Related Photos:

Recent Posts
Following the acceptance of the Province of La Union of the first batch of Moderna Vaccine comprised of 100 vials …