𝗙𝗶𝘃𝗲 𝗻𝗲𝘄𝗹𝘆 𝗮𝗽𝗽𝗼𝗶𝗻𝘁𝗲𝗱 𝗣𝗚𝗟𝗨 𝗲𝗺𝗽𝗹𝗼𝘆𝗲𝗲𝘀 𝘁𝗮𝗸𝗲 𝗢𝗮𝘁𝗵, 𝗩𝗼𝘄𝘀 𝘁𝗼 𝗦𝘁𝗿𝗲𝗻𝗴𝘁𝗵𝗲𝗻 𝗣𝗚𝗟𝗨 𝗪𝗼𝗿𝗸𝗳𝗼𝗿𝗰𝗲 𝗳𝗼𝗿 𝟮𝟬𝟮𝟯; 𝗧𝗵𝗿𝗲𝗲 𝘀𝗲𝗿𝘃𝗶𝗰𝗲 𝗮𝘄𝗮𝗿𝗱𝗲𝗲𝘀 𝗿𝗲𝗰𝗼𝗴𝗻𝗶𝘇𝗲𝗱
By: Charissa Marie E. Go, GPC-HRMU | Photos By: PIO | Date: January 9, 2023
---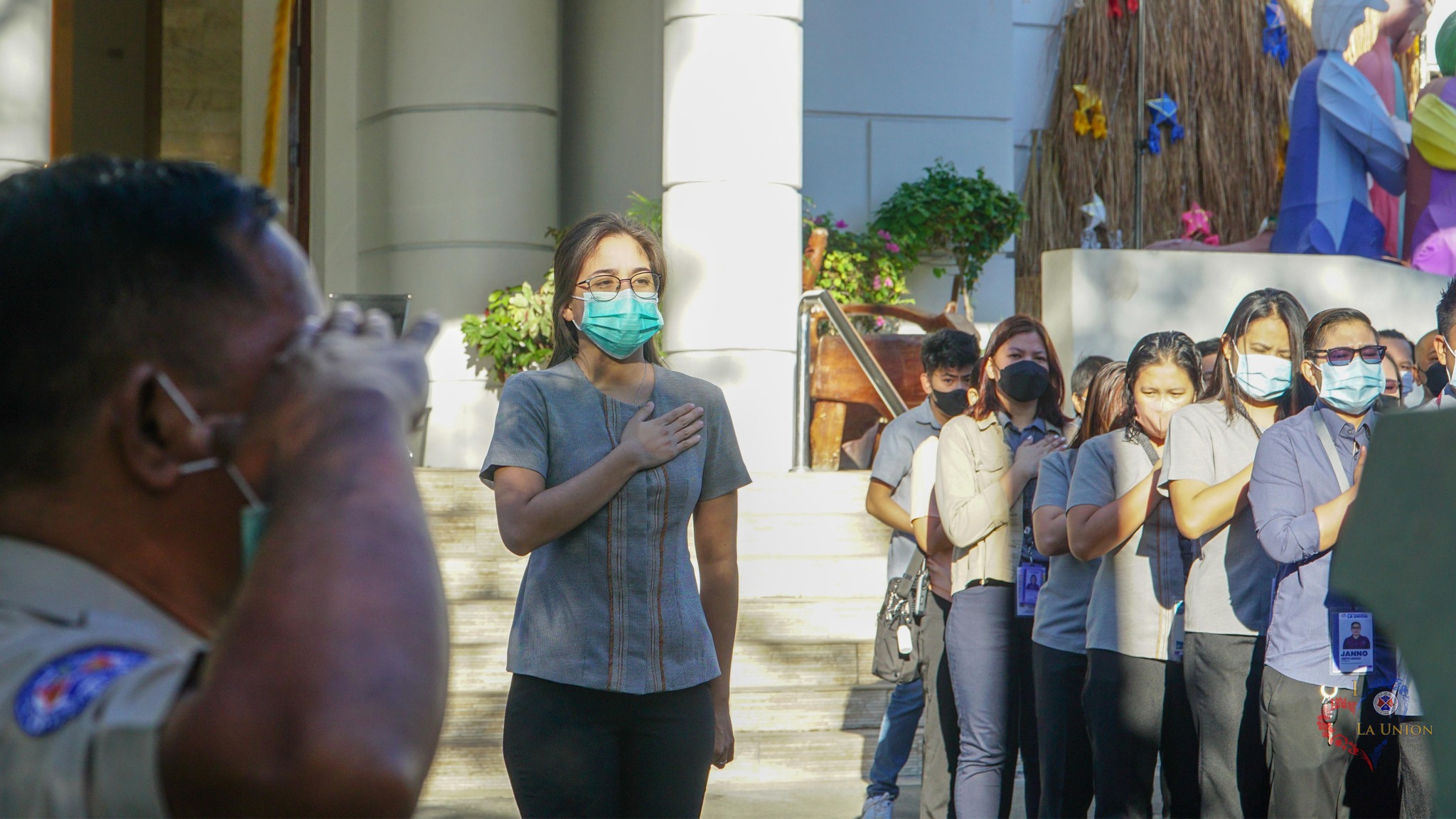 To kickstart the various projects, programs, and activities set for the year 2023, Gov. Raphaelle Veronica "Rafy" Ortega-David led the oath-taking of the five newly appointed employees of the Provincial Government of La Union (PGLU) as part of the first Monday flag ceremony for the month of January.
Vowed to be committed in their responsibilities in the name of #LaUnionPROBINSYAnihan were Marlyn G. Apilado and Edmar C. Bacani of the Provincial Information Office as Administrative Aide IV and Administrative Aide V, respectively. Ronald F. Faminialagao of Provincial Planning and Development Office (PPDO) also took oath as Draftsman III. Jhunmark D. Godoy of Office of the Provincial Accountant and Jandale Ivans Libao of Office of the Provincial Governor both pledged as Laborer 1.
The newly minted employees will join the ranks of the PGLU workforce in their efforts to elevate organizational performance through people-centered and driven governance service delivery.
Moreover, three service awards were given to employees who are retiring this month of January 2023 in recognition of their commitment and dedication to public service, which paved the way for the realization of the goals and objectives of the province.
They were Myrna B. Estoesta of the Provincial Health Office with 30 years of government service; Venido R. Alcantara of PPDO with 36 years of service; and Editha A. Cardenas also from PPDO with 36 years of service.
Indeed, the PGLU is dedicated in strengthening its program and service deliveries by empowering its manpower as the whole province continues to roll toward the realization of being the Heart of Agri-Tourism in Northern Luzon by 2025.
Related Photos:

Recent Posts
Following the acceptance of the Province of La Union of the first batch of Moderna Vaccine comprised of 100 vials …