𝗙𝗔𝗦𝗧𝗘𝗥, 𝗘𝗔𝗦𝗜𝗘𝗥, 𝗠𝗢𝗥𝗘 𝗖𝗢𝗡𝗩𝗘𝗡𝗜𝗘𝗡𝗧 𝗧𝗥𝗔𝗡𝗦𝗔𝗖𝗧𝗜𝗢𝗡𝗦 𝗜𝗡 𝗟𝗔 𝗨𝗡𝗜𝗢𝗡 𝗧𝗛𝗥𝗢𝗨𝗚𝗛 𝗚𝗖𝗔𝗦𝗛 - 𝗧𝗛𝗘 𝗙𝗜𝗥𝗦𝗧 𝗣𝗥𝗢𝗩𝗜𝗡𝗖𝗘 𝗜𝗡 𝗡𝗢𝗥𝗧𝗛𝗘𝗥𝗡 𝗟𝗨𝗭𝗢𝗡
By: Maeve N. Zafra, PIO | Photos By: Sonny Buenaventura, PIO | Date: October 4, 2022
---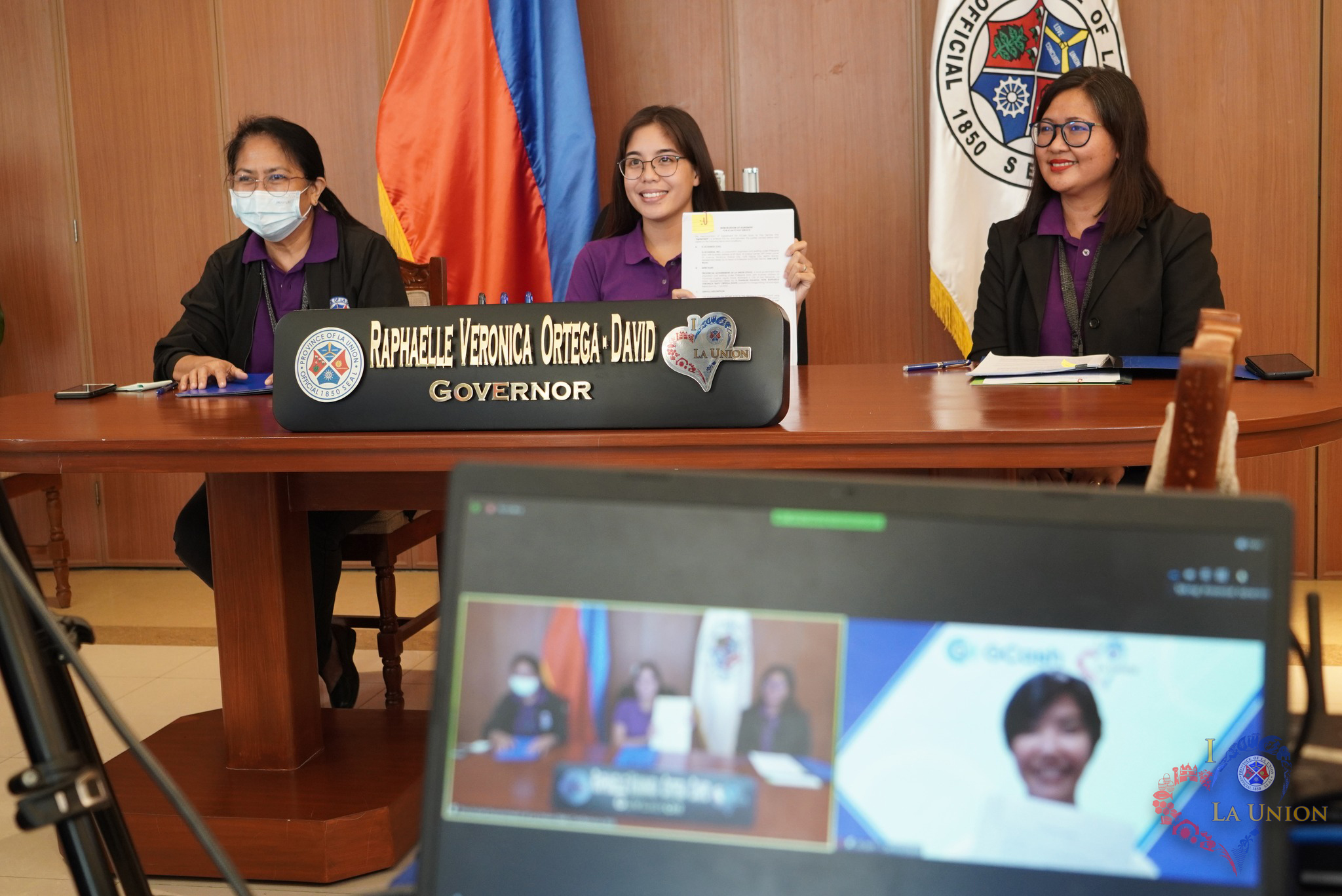 The Provincial Government of La Union (PGLU), through the leadership of Governor Raphaelle Veronica Rafy Ortega-David, officially signed the Memorandum of Agreement (MOA) with G-Xchange, Inc. more commonly known as GCash today, October 4, 2022.
The partnership with GCash makes #LaUnion the first province in Northern Luzon to mobilize online payment options. It is the PGLU's commitment to shift to digital systems to serve the Kaprobinsiaan better and faster.
The MOA with GCash will enable constituents who are GCash users to use the app in settling payment of government fees collected by PGLU.
With this MOA, individuals can pay their bills through the GCash app, which allows users to settle transactions anytime, anywhere. Meanwhile, on-site individuals can pay through using the app's Scan To Pay Service and QR Code feature. These options provide a faster, easier, and more convenient way to pay bills.
The said partnership is in line with the directives and accomplishment of Gov. Rafy's first 100 days, P.U.S.O Agenda, and making La Union the Heart of Agri-Tourism in Northern Luzon by 2025. Further, Gov.Rafy expects a stronger partnership with GCash to innovate and modernize the financial processes of PGLU.
#LaUnionPROBINSYAnihan
Related Photos:
Recent Posts
Following the acceptance of the Province of La Union of the first batch of Moderna Vaccine comprised of 100 vials …