PGLU Info Officers Undergo Training
By: Maricel A. Florentino - Date: April 13, 2018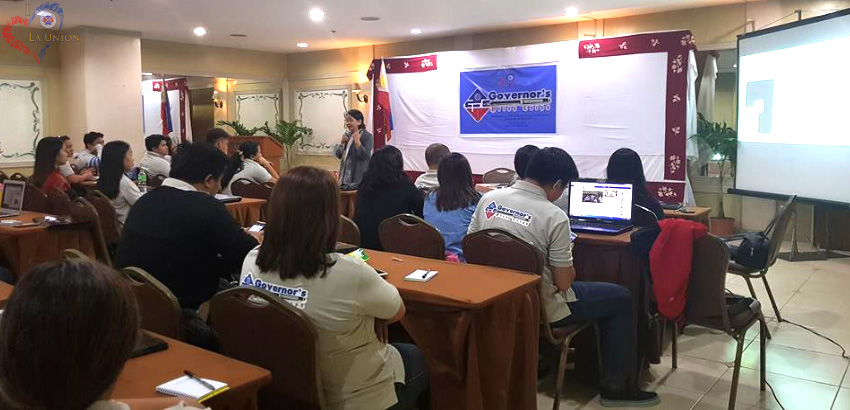 Photo by: PITO-LU
University of the Philippines Open University Chancellor Dr. Melinda dP. Bandelaria discusses Social Media Marketing for Development to the members of the Governor's Press Corps during the third day, April 12, 2018, of the News Writing and Social Media Marketing Seminar-Workshop in Hotel Veniz, Baguio City.
The Provincial Government of La Union (PGLU) through the Provincial Information and Tourism Office (PITO) led by Adamor L. Dagang conducted the reorganization and training for the Governor's Press Corps (GPC) from April 10 to 12, 2018 at the Hotel Veniz, Baguio City. This was attended by 45 members from selected offices and hospitals under PGLU.
The first day of training consisted of teambuilding exercises facilitated by Dr. Mark Anthony Latoja, Retail Manager of Globe Telecom and an experienced trainer, while Dr. Cecilia Fe Abalos, Associate Professor at the University of the Philippines (UP) Baguio, served as the main speaker as she discussed the basics of Development Communication.
More writing exercises followed on the second day of training as Jason Paolo Telles, Instructor for Broadcast Communication at UP Baguio, taught the fundamental principles in Newswriting and Photo Captioning.
The third and last day was dedicated to keeping up with the latest space for media consumption. Participants learned Social Media Marketing for Development from UP Open University Chancellor Dr. Melinda dP. Bandalaria.
In his message, Gov. Francisco Emmanuel "Pacoy" R. Ortega III stressed on the vital role of GPC being front and center in the promotion, marketing, and awareness campaign towards the vision of making La Union the Heart of Agri-Tourism in Northern Luzon by 2025.
The Governor's Press Corps was formed pursuant to Executive Order No. 009 Series of 2008 by immediate past Governor Manuel C. Ortega. It aims to deliver complete, accurate and timely information on the various development initiatives, programs, and projects that the PGLU is implementing for the welfare of the people.
---