Mutia ti La Union 2018
By: Joanna C. Guerrero |  By: PITO-LU |  Date: March 09, 2018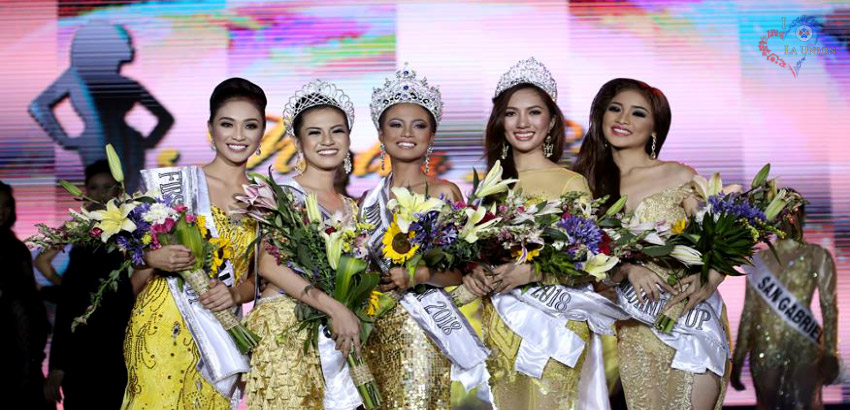 LA UNION QUEENS. Mutia ti La Union 2018 Ms. Donnabelle Erno (middle) from the City of San Fernando poses with (L-R) First Runner Up Ms. Zeah Pala of Luna, Mutia ti Kalikasan Ms. Alec Flores, Mutia ti Turismo Ms. Vea Lalas of Agoo and Second Runner Up Ms. Zhandra Manongdo of Aringay during the grand coronation night on March 2, 2018 at the Poro Point Baywalk, City of San Fernando, La Union.
Donnabelle Erno of the City of San Fernando was crowned as Mutia ti La Union 2018 during the pageant coronation night last March 2 held for the first time in Poro Point Baywalk, Poro Point Freeport Zone, City of San Fernando, La Union.
Erno, 19, and a 3rd year college student at Don Mariano Marcos Memorial State University, is said to have put a dot to the 6-year consecutive wins of the Municipality of Agoo in the said pageant. She is the third lady from the said city who have won the prestigious title since the pageant started in the late 70s.
Aside from her exotic morena looks and pixie haircut, Erno impressed the judges with her undeniably oozing confidence and grace on stage which made her consistently top the swimsuit and evening gown competition. She also got the crowd when she answered the question thrown by one of the judges and Starmagic actress Julia Baretto, "Ano mas importante? Mahal ka? O mahal mo?" with "Well, for me, it's important that I love that person because I know time will come he will love me back not because I offer so much, not because I did everything. But one day, he will realize that the one person doing the efforts for him is the one who could truly love him forever. And if forever doesn't exist, then for a lifetime."
After giving a good fight, Ms. Vea Lalas of Agoo, landed as Mutia ti Turismo 2018 and Ms. Alec Alexis Flores of Santo Tomas as Mutia ti Kalikasan and the Miss Radiant Smile award.  Ms. Zeah Nestle Pala of Luna, who also won Ms. Beautiful Hair and People's Choice Award landed as 1st runner-up and Ms. Zhandra Manongdo of Aringay, who won Miss Body Beautiful and Miss Beautiful Skin, landed as 2nd runner-up.
Other ladies who joined the Top 10 finalists were Ms. Alyssa Orfano from Caba; Naya Trinidad from Rosario who also got Smart Texter's Choice Award; Carm Marquez of Santol; Jen Yadyadoc from San Juan; and Katrina Isidro from Sudipen who also got the Miss Photogenic award.
Other special awards given were Miss Friendship which was awarded to Ms. Issa Corpuz of Bangar; Ms Talent which was awarded to Ms. Zhania Itchon of San Gabriel; and Miss Toyota conferred to Ms. Ann Madayag of Bauang.
The show, which lasted for about two and a half hours, was graced by big names in showbiz and politics. Aside from Ms. Barretto, Ilocos Norte Governor Imee Marcos, basketball star Alvin Patrimonio, legendary actor Gaby Concepcion and Miss International 2017 Kylie Verzosa also served as panel of judges. Kapamilya Star, Gerald Anderson serenaded the girls in their evening gowns and Showtime star and concert princess Anne Curtis entertained the crowd with her own rendition of various "birit songs." Kapamilya Stars Luis Manzano and Alex Gonzaga served as pageant hosts.
After the pageant, a concert by singer-composer, Bamboo, took place at the same venue. The Philippine National Police estimated approximately 30,000 crowd during the event.
Mutia ti La Union 2018 is one of the highlights of the 168th Foundation Anniversary of the Province of La Union which celebrates and showcases the innate beauty, unique traits and peculiarity of the people of La Union which are considered as the province's competitive strengths.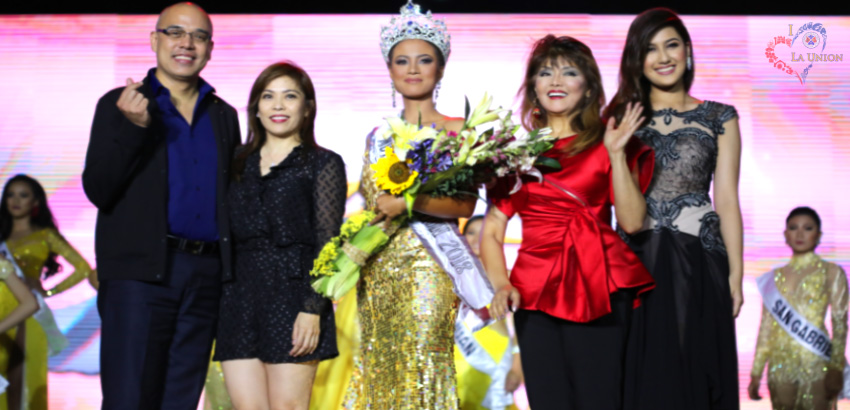 MUTIA TI LA UNION 2018. Gov. Francisco Emmanuel "Pacoy" R. Ortega III, Ilocos Norte Gov. Imee Marcos, ABONO Party-List Rep. Vini Nola A. Ortega, and Mutia ti La Union 2017 Ms. Carina Cariño pose with the newly crowned Mutia ti La Union 2018 Ms. Donna Erno of the City of San Fernando, La Union during the Grand Coronation Night held on March 2, 2018 at the Poro Point Baywalk, City of San Fernando, La Union.
---