LU Sangguniang Panlalawigan Goes Paperless
By: Rafael C. Mosuela, GPC-SP | Photo By: GPC-SP | Date: May 3, 2021
---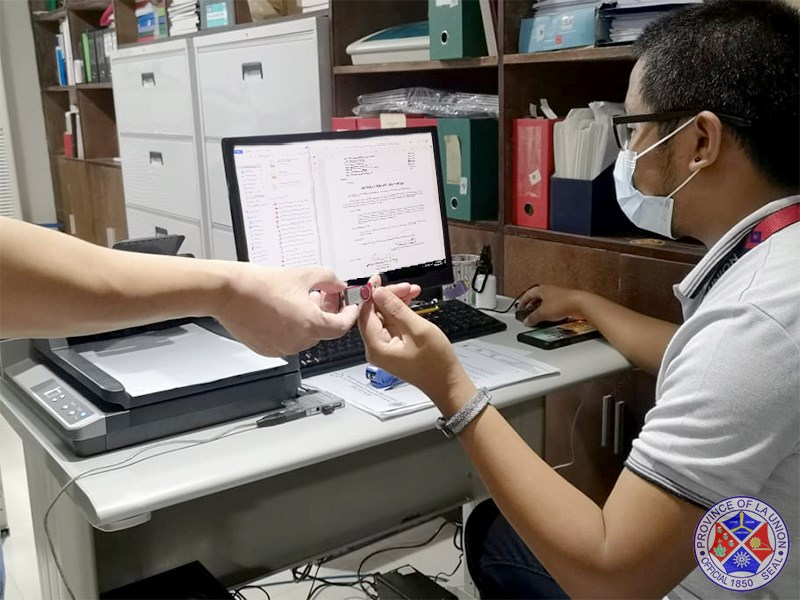 The 22nd Sangguniang Panlalawigan (SP) of La Union passed Resolution No. 582-202, adopting paperless transactions and online transmitting of SP resolutions on the status and review of acted referrals and in receiving communications from component local government units (LGUs), offices and agencies through its Official E-mail Address, sangguniangpanlalawiganlaunion@gmail.com.
Due to the pandemic, the SP transitioned to this innovation/digital transaction in order to safeguard the health of the people in the province in interacting with the government, businesses and their personal dealings. Board Member Gerard G. Ostrea said, the office's first case of CoViD-19 prompted them to impose tighter measures preventing any staff from contracting the virus, through this digital/online strategy.
BM Ostrea further mentioned that all component LGUs of the Province have access to online services not just with their own local internet connections but also through their connection to the Provincial Wireless Mesh. Most, if not all stakeholders of the province have internet connections, thus, the continuity of public services is not hampered by this pandemic.
The resolution states that SP Secretariat shall adopt paperless transactions and shall act upon communications forwarded to its official email address. Also it shall transmit via official email addresses of PLGU departments, LGUs and concerned offices and agencies electronic copies of approved resolutions as well as other documents needed for review, endorsements to and from the different offices of the province and other important communications be also included and that ISO Registered procedures be re-studied to adjust to protocols so as to comply with this Resolution.
BM Ostrea said that with their new system, they can pursue substantial progress and achieve developmental local legislation.
Recent Posts
With the continuing #BakunaMuna Program of La Union, the vaccination team of the Municipality of San Juan with the assistance …