Red Cross Awards Caba District Hospital as Bloodiest Council
By: Marlon C. Runas, GPC-CDH | Photo By: Nancy Catherine | Date: July 23, 2019
---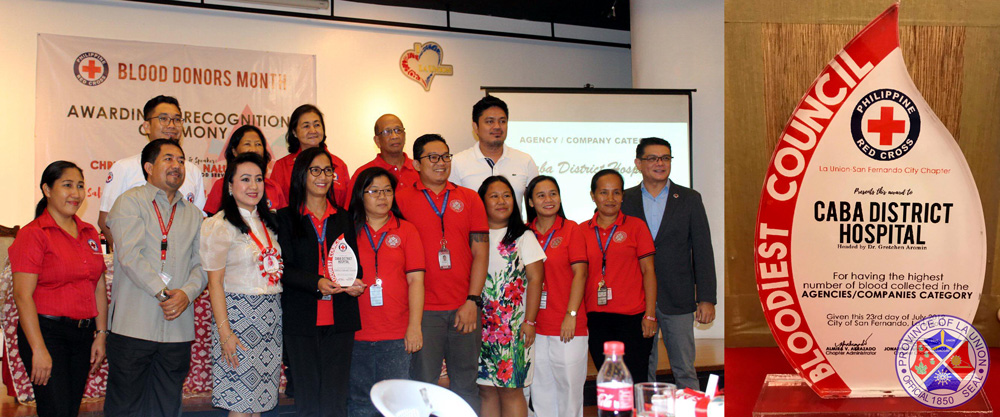 BLOODIEST COUNCIL. Caba District Hospital (CDH) Chief Dr. Gretchen F. Aromin receives the Bloodiest Council Award for having the highest number of blood collected in the Agency/Organization Category during the Philippine Red Cross (PRC) La Union Chapter Awarding and Recognition Ceremony Blood Donor Month 2019 on July 23, 2019 at Diego Silang Hall, Provincial Capitol, City of San Fernando, La Union. CDH collected a total of 167 blood units or equivalent to 75,150 cc of blood from June 2018 to June 2019
Caba District Hospital (CDH) bagged the Bloodiest Council Award for the second time for having the highest number of blood collected in the Agency/Organization Category during the Philippine Red Cross (PRC)-La Union Chapter Awarding and Recognition Ceremony Blood Donor Month 2019 with the Theme: "Safe Blood For All, Donate Blood, Save Lives" on July 23, 2019 at Diego Silang Hall, Provincial Capitol, City of San Fernando, La Union.
According to Ms. Michele Bermudez, Chapter Service Representative for Blood Services (CSR-BS) of PRC-La Union Chapter, CDH collected a total of 167 blood units or equivalent to 75,150 cc of blood from June 2018 to June 2019 making CDH as this year's Bloodiest Council for the Agency/Organization Category.
PRC-La Union Chapter also granted awards to voluntary blood donors who have helped provide quality, safe blood. Blood Galloners or those who have given 450 cc of blood for at least nine times or an equivalent of 4,050 cc were also awarded.
From the 23 Blood Galloners Awardees this year, eight were from the CDH Mobile Blood Donation Program, of which, six blood donors were CDH employees. Blood Galloners Awardees received a certificate of appreciation, Blood Galloners pin, token and were inducted into the Blood Galloners Club of the Philippine Red Cross.
Among the Blood Galloners Awardees from CDH was Angela Casuga, B-Jay Eugenio, Dome Concubierta, Eduardo Bravo III, Marifi Dulay and Rogelio Sibayan.
CDH Mobile Blood Donation Program will continuously support and help the PRC to augment blood in the province and create awareness of the importance of donating blood to save lives. Pursuant to Republic Act 7719 or the National Blood Services Act of 1994, the PRC, along with the Department of Health, the Philippine Blood Coordinating Council, other government agencies and non-government organizations are responsible for planning and implementing a National Voluntary Blood Services Program that will develop rules for blood transfusion nationwide. CDH also is a partner of Ilocos Training and Regional Medical Center (ITRMC's) National Voluntary Blood Service Program Mobile Blood Donation Program since CY 2017.
Recent Posts
National Security Adviser and Director General Hon. Hermogenes C. Esperon, Jr. of the National Security Council calls to order the …