𝗦𝗣 𝗵𝗼𝗹𝗱𝘀 𝗢𝗿𝗶𝗲𝗻𝘁𝗮𝘁𝗶𝗼𝗻 𝗦𝗲𝗺𝗶𝗻𝗮𝗿 𝗼𝗻 𝗥𝗲𝘃𝗶𝗲𝘄𝗶𝗻𝗴 𝗣𝗼𝘄𝗲𝗿𝘀 𝗮𝗺𝗼𝗻𝗴 𝗣𝗿𝗼𝘃'𝗹, 𝗟𝗼𝗰𝗮𝗹 𝗟𝗲𝗴𝗶𝘀𝗹𝗮𝘁𝗼𝗿𝘀
By: Rafael C. Mosuela, GPC-SP | Photos By: Sangguniang Panlalawigan | Date: August 4, 2022
---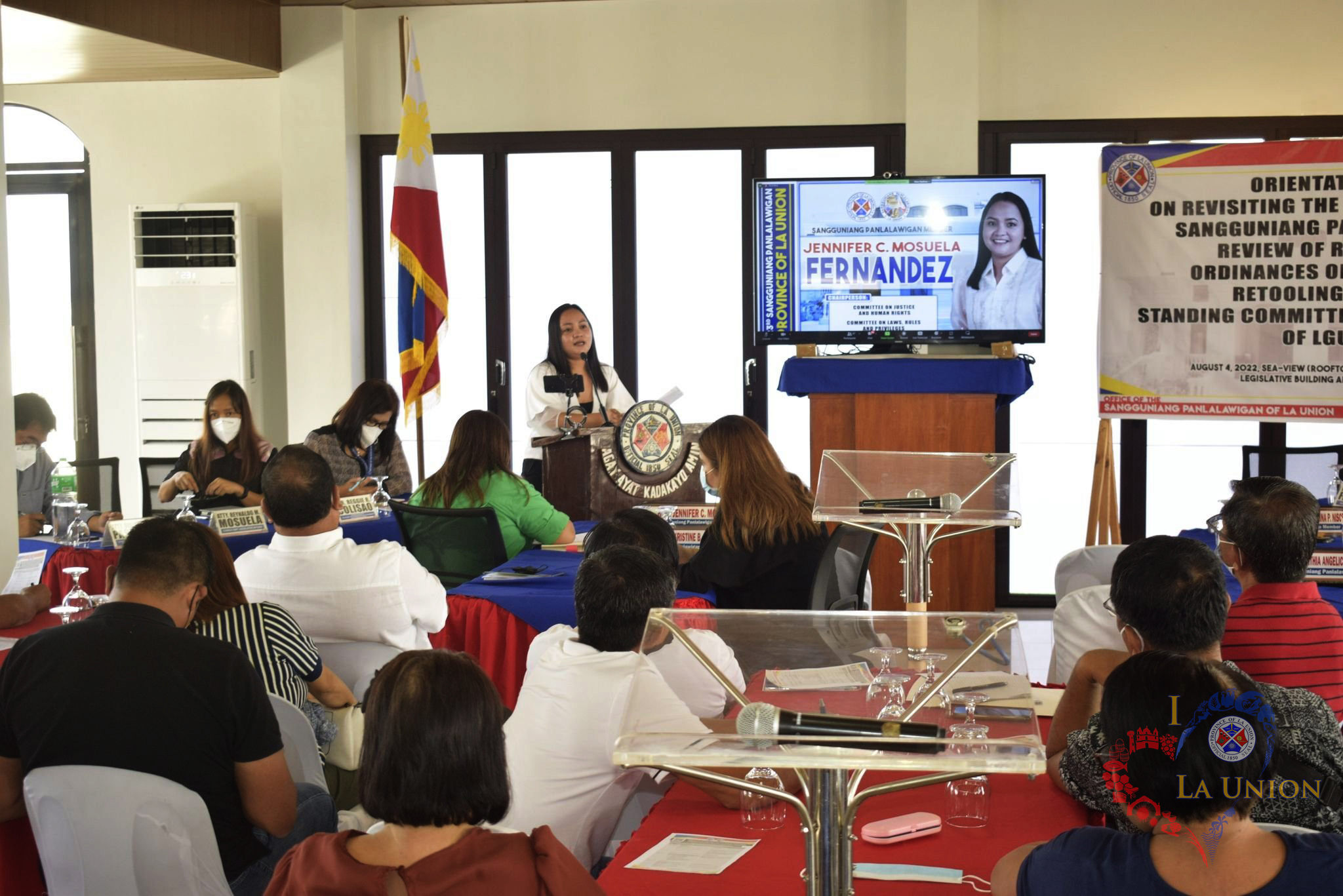 To provide a deeper understanding and appreciation on the roles and responsibilities of Local Legislators, the Committee on Laws, Rules and Privileges chaired by Sangguniang Panlalawigan Member (SPM) Jennifer C. Mosuela Fernandez and the Sangguniang Panlalawigan (SP) Secretariat recently conducted an Orientation-Seminar dubbed as "Revisiting the Review Powers of the Sangguniang Panlalawigan on the Review of Resolutions and Ordinances of Component Local Government Units (LGUs)" on August 4, 2022 at the SP Speaker Pro Tempore Francisco Ortega Hall, City of San Fernando, La Union.
Attended by Vice Mayors, Sannguniang Bayan Member (SBM) chair of the Committee on Laws, Rules, and Privileges, and SB Secretaries of the province's component LGUs. The said seminar emphasized their functions and liabilities as legislators that would lead to the development and progress of their respective municipalities as reflected on the province's accomplishment and breakthrough.
Department of the Interior and Local Government Assistant Secretary Odilon Luis Pasaraba and Provincial Consultant on Legal Affairs, Atty. Reynaldo Mosuela served as the Resource Speakers while Provincial Administrator Agnes Cargamento, Provincial Budget Officer Catherine Franco, and Provincial Treasurer Janet Molina served as panelists.
Meanwhile, SPMs Chary Nisce, Victor I. Rivera, Alyssa Kristine B. Sibuma and Gerard G. Ostrea personally attended the seminar-orientation while the other SPMs attended online.
In her message, SPM Jennifer Mosuela Fernandez mentioned that the activity was set up in view of the ordinances passed by the LGUs that were declared invalid by the SP for it goes against the Local Government Code of 1991 and other related laws for that matter. Moving forward, she is optimistic that the activity would be a great venue for the participants, whether new or former legislators, learn more about the processes of local legislation and to come up with a measure that may not contradict the law.
The Sangguniang Panlalawigan of La Union is more confident that the provincial and local legislators could come up with better and more effective ordinances aligned to current provincial administration's P.U.S.O. Agenda for the benefit of their constituents and the kaprobinsiaan.
Related Photos:
Recent Posts
Following the acceptance of the Province of La Union of the first batch of Moderna Vaccine comprised of 100 vials …