𝗚𝗼𝘃. 𝗥𝗮𝗳𝘆: 𝟰𝟳𝟰 𝗣𝘂𝗯𝗹𝗶𝗰 𝗦𝗰𝗵𝗼𝗼𝗹𝘀 𝗶𝗻 𝗟𝗮 𝗨𝗻𝗶𝗼𝗻 𝘁𝗼 𝗿𝗲𝗰𝗲𝗶𝘃𝗲 𝗣𝟭𝟱𝗸 𝗙𝗶𝗻𝗮𝗻𝗰𝗶𝗮𝗹 𝗔𝘀𝘀𝗶𝘀𝘁𝗮𝗻𝗰𝗲
By: Geraldine B. Salazar-Lucero, PIO | Photos By: Sonny Buenaventura, PIO | Date: August 1, 2022
---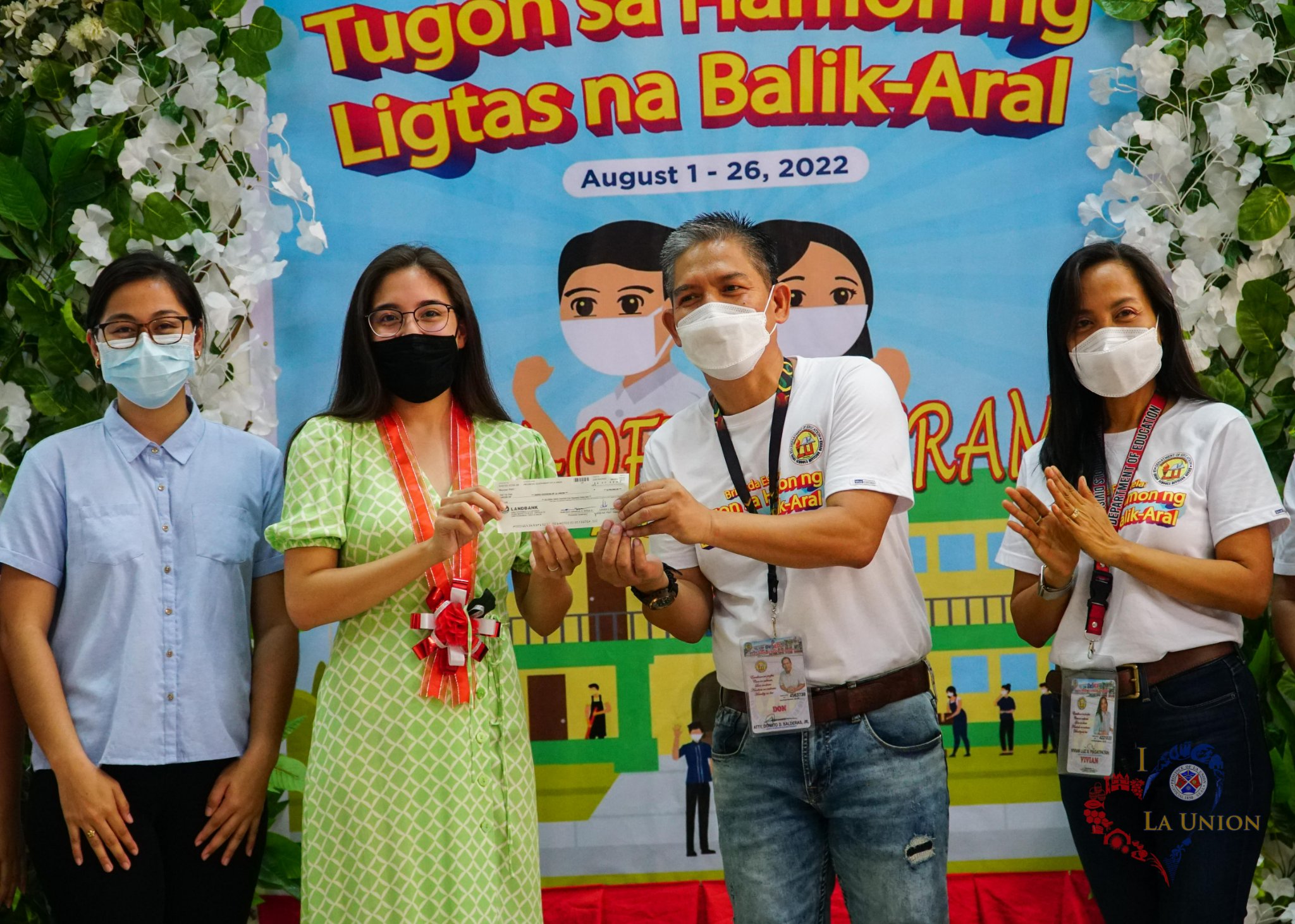 Just in time for the Brigada Eskwela 2022, Gov. Raphaelle Veronica Rafy Ortega-David handed over a check amounting to Php 6,705,000.00 to Atty. Donato D. Balderas, Jr., Schools Division Superintendent of the Department of Education La Union Schools Division Office (DepEd-LUSDO), to be utilized in the proposed school projects and building enhancement of 474 Public Schools in the Province of La Union for the incoming school year.
This was the highlight of the DepEd-LUSDO Brigada Eskwela 2022 Kick-Off Activity on August 1, 2022, at the DepEd-LUSDO Conference Hall, Catbangen, City of San Fernando, La Union attended and witnessed by Board Member (BM) Cynthia Angelica M. Bacurnay, Committee Chair on Education and Culture; Former BM Nancy Corazon M. Bacurnay; DepEd-LUSDO Officials; and La Union Public School Teachers.
With the said amount, each public school in the province will be receiving Php 15,000.00 financial assistance funded under the Special Education Fund of the Provincial School Board. The amount will be used by the schools for their respective projects in preparation for the resumption of full face-to-face classes in the Philippines as mandated by Vice President and DepEd Secretary Sara Duterte.
In her message, Gov. Rafy stressed that basic education of the kaprobinsiaan is among her top priorities as Governor and that she fervently supports the development programs of the education sector in the province.
"As the new Governor of La Union and a youth advocate, one of my priorities in the P.U.S.O. agenda is to provide Universal Access to Basic Needs including Basic Education for I strongly believe that quality education is the foundation of growth and development in building a brighter nation, hence, I assure my full support in all the development programs under the education sector in La Union," Gov. Rafy said.
Atty. Balderas, in his acceptance speech, expressed his gratitude to Gov. Rafy and the whole Provincial Government for the full support they have been extending not only to the learners in the province but to the educators as well. More so, he mentioned his appreciation for Gov. Rafy's sincerity in personally visiting all the municipalities to have a dialogue with the teachers and distribute laptops and tablets for them to be fully capacitated in upholding quality education.
With its dynamic partnership with the Department of Education La Union Schools Division, the Provincial Government of La Union remains optimistic that excellent and accessible education for the students in the province of La Union is attainable with #LaUnionPROBINSYAnihan.
Related Photos:
Recent Posts
Following the acceptance of the Province of La Union of the first batch of Moderna Vaccine comprised of 100 vials …