By:  Vanessa Badua |  By: PITO-LU   |  Date: August 6, 2018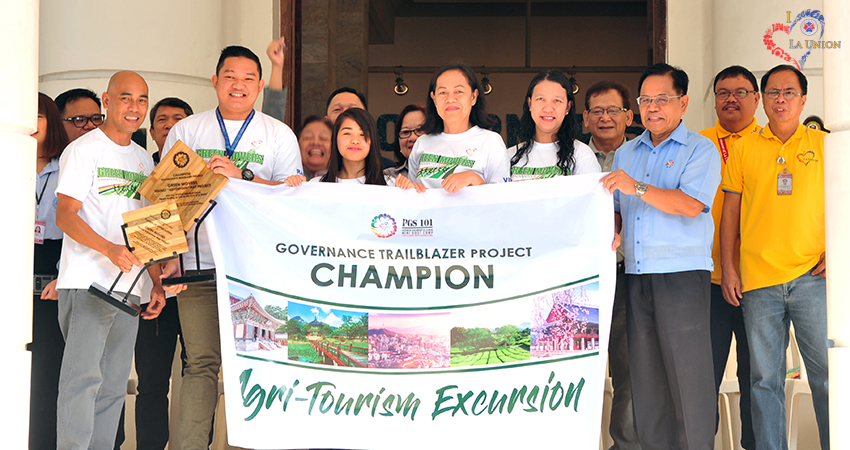 The Provincial Government of La Union awards the four participating teams for the Search for the Most Outstanding Governance Trailblazer Project of the Regional Line Agencies (RLAs) during the First Monday Flag Raising Ceremony on August 6, 2018 at the Provincial Capitol Grounds, City of San Fernando, La Union
The Provincial Government of La Union recognized the efforts of the four participating teams for the Search for the Most Outstanding Governance Trailblazer Project of the Regional Line Agencies (RLAs) during the First Monday Flag Raising Ceremony on August 6, 2018 at the Provincial Capitol Grounds, City of San Fernando La Union.
The said program was launched during the third Performance Governance System (PGS) Mini Boot Camp for RLAs on January 29-31, 2018. As an application of the learnings from the said camp, the four teams composed of participants from different RLAs have identified and developed their novel, innovative, and impactful Governance Trailblazer Projects geared towards La Union becoming the Heart of Agri-Tourism in Northern Luzon by 2025.
After four months of planning and implementation, PGLU awarded the Green Team for being the Champion for said search. Their project, the "Tourist "Adventour Map," aims to establish tourist maps in order to promote the Agri-Tourism industry in the province and make the industry more vibrant which consequently leads to increased economic development. Furthermore, the team also enhanced the tour packages being offered by the four LGUs within the Central Circuit. These maps were erected along the roads of San Fernando City, San Juan, Bacnotan and San Gabriel.
The Green Team is composed of Mr. Francis Greg A. Buccat of Bureau of Fisheries and Aquatic Resources; Ms. Victoria A. Ordoño of the Department of Trade and Industry; Ms. Zenaida L. Garcillan of Philippine Statistics Authority; Ms. Jayralyn Y. Siddayao of the Philippine Drug Enforcement Agency; and Mr. Marlon C. Runas of Caba District Hospital.
PGLU also awarded the Blue Team for being the first runner-up with their project, "Blue K-9: Manong Drive V2.0"; Orange Team with their project "Bukirin, Pasyalan na rin" as the 2nd runner-up; and Yellow Team with their project "Stone-Art Landmark" as the 3rd runner-up.
The implemented projects of the teams are expected to be sustained, supported, or even turned over to the responsible government units or communities concerned.
---